From Gmail to Gfail: Google's G-Suite topples over for unlucky netizens, rights itself
East Coast looks to be hardest hit. C'mon, Chocolate Factory, we're relying on you to pull us through
Updated A bunch of Google services, from Gmail and Google Drive to Hangouts and Classroom, fell offline for unlucky netizens in North America today.
The Mountain View ads giant said a "partial outage" knocked bits of its G-Suite service down, and it seemed the East Coast of the US was the biggest areas hit, with apps and websites failing shortly before noon local time. Systems were restored about an hour later.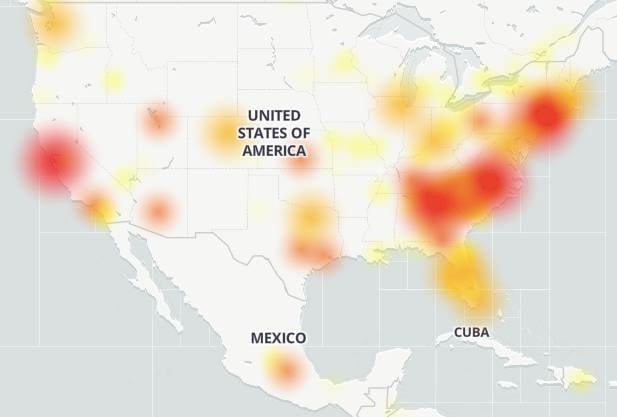 A USA map showing notspots of inaccessible Google services ... Source: DownDetector
The outage affected Gmail, Drive, Docs, Sheets, Slides, Hangouts Chat, and Meet services. The G-Suite admin console and Classroom services were also down. Basically, Google said users reported being unable to access its platforms. Now, with things back to normal, hopefully, the web giant said:
We apologize for the inconvenience and thank you for your patience and continued support. Please rest assured that system reliability is a top priority at Google, and we are making continuous improvements to make our systems better.
With workers telecommuting en masse amid the global coronavirus pandemic, folks and organizations will have felt the effects of this outage, especially those who have opted to use the Hangouts and Meet services to keep in contact with colleagues, friends, and family.
This outage also comes at a particularly bad time for teachers and students, as the coronavirus response has a number of schools relying almost exclusively on Google services to connect tutors to pupils.
Google services in our area are currently experiencing an outage. Students and teachers may be unable to access Google Classroom, Drive, Calendar, and Gmail at this time. Google is working to fix the issue; we will post an update once it has been resolved. https://t.co/8R8DGcCpZl pic.twitter.com/oxQpclxIBN

— Anderson Two (@anderson2PR) March 26, 2020
The Register has put in a request for more information and will update the story should Google provide.
These sort of fall-overs are becoming an annual occasion for the Mountain View ads giant. Last year around this same time a similar outage occurred with the G-Suite.
Google's downtime comes just one day after a number of businesses were left without internet connections thanks to an outage that hit Broadcom's (formerly Symantec) WSS web-based security service. ®
Updated to add
On Friday, a Google spokesperson told The Register the outage was down to the failure of networking gear in one of its data centers.
"Some of our users experienced a service disruption ... as a result of a significant router failure in one of our data centers in the South Eastern US, causing network congestion," the web giant said.
"As a result, Google services running in that data center were directly impacted and were unavailable until our engineers rerouted the traffic and moved those services to alternate facilities."