This article is more than 1 year old
Stockholders, assemble. HP's latest argument: Do you really trust Xerox to take us over during a pandemic recession?
Execs make new plea to shareholders in hostile takeover battle
Executives at HP Inc have made yet another pitch to shareholders in their effort to ward off a hostile takeover by Xerox.
On Wednesday, an open letter from CEO Enrique Lores and chairman Chip Bergh made the case against letting Xerox absorb HP Inc, pointing to the ongoing coronavirus pandemic and a looming financial crisis.
"Since Xerox launched its unsolicited exchange offer and nominated directors, the global social, economic and financial environments have changed radically," wrote Lores and Bergh. "Despite this, Xerox continues to advance its tender offer and its proposed slate of directors in an effort to force a combination."
The letter is the latest in what has been a months-long battle between the two sides over Xerox's $36.5bn merger attempt and HP's efforts to remain a standalone company. After repeated efforts to sell HP's board on the deal, Xerox went hostile in January and the two sides have been publicaly trading angry letters ever since.
Much of this latest volley from HP centers on how Xerox plans to pay for the acquisition, and whether that biz gobble would hold up in the midst of a pandemic-induced global recession. For the HP team, a heavily-leveraged merged company would be on shaky ground almost as soon as the deal was completed.
"We have consistently expressed deep concerns about the irresponsible capital structure that is reflected in Xerox's proposal. Their proposed structure would saddle HP with a level of debt that it could not support, potentially leaving the company without the cash needed to effectively run the business," the duo argued.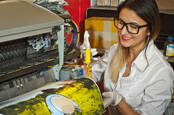 Xerox slurps something that isn't HP Inc: Brit managed print services houses Altodigital and ITEC Connect
READ MORE
"We believe this would put the company at risk of being in financial distress immediately upon consummation of Xerox's proposed transaction."
While Xerox has temporarily hit pause on most of its takeover activity due to the COVID-19 virus outbreak, it has maintained it plans to convince HP shareholders to oust their board of directors and elect replacements who will green-light the merger.
Lores and Bergh, naturally, are not particularly fond of this plan and have fought tooth and nail to do everything they can to sour the deal.
"Even if Xerox is able to maintain its bridge commitments and raise additional equity financing, which is far from certain in the current climate, there are many conditions to its proposal that create uncertainty," the pair argued.
"These include regulatory approval across many countries, funding of the bridge commitments, new funding for the ongoing business, and Xerox's securing approval of the transaction by its own shareholders."
Xerox did not respond to a request for comment. ®