For much of its life, Huawei didn't have to think too much about its software ecosystem, at least with regard to its once-growing Western market. But then Donald Trump pulled the rug out from underneath the Middle Kingdom mobe maker with a Google embargo.
Suddenly, Huawei found itself having to plough around $1bn into its own app store, in a somewhat quixotic attempt to turn it into a viable contender.
So, how's that going? With Thursday's launch of the P40 series, which will hit European shelves later this year, Huawei was eager to tout the progress it has made in attracting third-party developers.
The biggest is arguably Microsoft, which now offers Office Mobile and Bing through the Huawei AppGallery - giving Redmond a powerful foothold in the new store. The P40 series also uses Microsoft's SwiftKey keyboard by default – although this has been the case for some time.
Elsewhere, there's the likes of SnapChat and TikTok, JustEat and Trainline. But still no WhatsApp or Facebook. No Uber Eats or Deliveroo. And, for that matter, no Uber.
In his keynote, Huawei Consumer Business Group (CBG) head honcho Richard Yu boasted of the AppGallery's 400 million monthly users, as well as its global availability in more than 170 countries. However, much of the activity undoubtedly comes from Mainland China, where Google Play is inaccessible.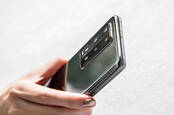 Things that make you go zoom: Huawei rolls out pictastic P40 phones, no Google Play Store in sight
READ MORE
But apps are just one piece of the pie. Huawei's verboten status also means that users of the company's phones are cut off from Google's cloud storage platform – not to mention the Chocolate Factory's music and video stores.
Huawei was keen to sell Huawei Mobile Services as a viable replacement for consumers wary of purchasing an expensive new flagship that's walled off from Mountain View's kingdom. On the video front, it pointed to licensing deals with the likes of Lionsgate, Discovery, ITV and Universal. Huawei also bragged about access to several music catalogs, including Universal and Warner.
Much of Yu's keynote felt as though he was imploring developers to get on board, with the tech exec extolling the virtues of Huawei's local partnerships and connections. And while there's been some traction, time will tell if the company builds real momentum.
Oh Ce-Celia
Of course, no Google Mobile Services also means no Google Assistant – leaving owners of Huawei's latest kit unable to bark commands at their phone like Anna Wintour yelling really mundane questions at a bedraggled assistant who is also, coincidentally, hard-of-hearing.
Enter Celia, which will be available in the UK, as well as various French and Spanish-speaking nations. In terms of functionality, it's fairly basic, allowing users to send messages, set reminders and so on. That's to be expected, given that it doesn't have Google's access to the world's information via a hugely popular search engine.
That said, Huawei has inked deals with French search engine Quant so it's not implausible that Celia could get smarter in the years to come. And with Huawei offering its own headphones and speakers, the firm could integrate it into its upcoming "ear-worn wearable" and IoT products, a bit like the Google Nest Mini or the Amazon Echo.
Celia will arrive via an OTA update later this year. Unfortunately, it wasn't present on the P40 Pro review sample we received earlier this week. That said, it'll be interesting to see how it compares to incumbent efforts, and whether it can challenge the Google/Apple/Amazon assistant hegemony. ®
Similar topics