2020 MacBook Air teardown shows in graphic detail how butterfly keyboards were snipped for scissor switch
Was 0.5mm of laptop really worth five years of pain, Tim?
Teardown terrors iFixit have opened up the innards of the new MacBook Air to reveal not only the departure of the hated butterfly keyboard, but also tweaks that might make things a bit more repairable. Kind of.
The Cupertino collector of idiot tax introduced the magical butterfly keyboard some five years ago as it sought to make its products ever slimmer.
It is fair to say the subsequent years were a bit of a disaster. Frustrated fanbois found keys sticking or characters not appearing as their beloved device appeared to react badly to even dust motes carried on a breath of wind.
Last year's eye-wateringly expensive 16-inch MacBook Pro dispensed with the butterfly keyboard in favour of the normal scissor switches, and the Air has, as expected, followed suit.
Noting that the keyboard had "only added half a millimeter to the thick end of the new Air", the iFixit gang dove in to see if Apple had done anything else with the extra space.
The first thing to note is that, yup, the silicone has gone and scissor keys are most definitely back. Prising off a key reveals the comeback kid.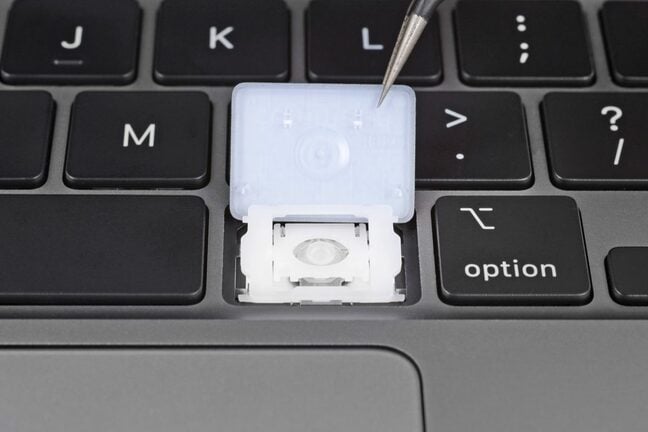 Pic credit: iFixit
Otherwise, it is business as usual. Pentalobe screws and a pair of clips hold the back of the laptop in place, revealing a familiar sight. Changes have, however, been made. A revised cable layout makes for an easier-to-replace trackpad and improves access to the battery.
The iFixit team were also pleased to note the introduction of screws to hold down components as well as the use of stretch release adhesive rather than the "ultra-aggressive battery adhesive" found in MacBook Pros. The solvents required for the latter, we're sure, are headache-inducing for repairers stuck at home in poorly ventilated rooms.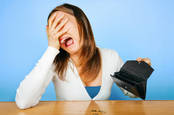 We lose money on repairs, sobs penniless Apple, even though we charge y'all a fortune
READ MORE
While screws will always be the repairperson's friend, the arrival of stretch adhesive is hopefully a hint that Apple might be taking steps toward making its hardware repairable. We can but hope that future models might be spared the solder for the SSD and maybe even the RAM.
As for iFixit, the team saw fit to bump up the repairability score by a point to four out of ten, with easier trackpad and battery replacement given a nod. The keyboard, while hopefully more reliable, earned a thumbs down for being integrated into the top case and with Microsoft showing the way with the Surface Laptop 3, there is no excuse for soldering an SSD to the board in a premium laptop nowadays.
And that 0.5mm? All keyboard. And an enduring symbol of corporate stubbornness for fanbois to treasure. ®