Samsung has announced an update for the Galaxy S10 and Galaxy Note 10 that will imbue them with powers previously only available on the newer Galaxy S20 range.
The changes include Pro Video mode on the older handsets, music sharing over Bluetooth, and the ability to create custom photo filters.
Another addition is "Single Take", which allows you to shoot consecutive pics for up to 10 seconds and then uses AI to recommend the best shot you've taken.
Better night mode, and night-time hyperlapse, are also trickling down.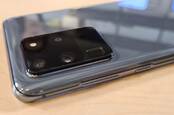 S20 Ultra 5G: Samsung unfurls Galaxy flagship with bonkers 108MP cam, 6.9-inch display
READ MORE
All of which is lovely. Or as Samsung put it, the new features "make the entire Galaxy experience even more enjoyable."
They'll certainly give those of us in lockdown new toys to play with. And then perhaps a reason not to buy a new Galaxy handset, seeing as last year's model now has this year's features. And all that in the middle of what analysts are already calling the biggest fall ever in the history of the worldwide smartphone market.
Who'd have thunk it? ®