Exchange some currency you want to? Guess the BIOS setup keyboard combination first you must, young Padawan
Things go sideways in Sainsbury's
Bork!Bork!Bork! Welcome to another in The Register's occasional series on computers flashing their undercrackers to all and sundry.
We've all been there. Popped to the shops for some pasta and come back laden with bork.
Take exhibit one, snapped in a Sainsbury's by intrepid Register reader Russell Sherr on one of his government-permitted trips to scour the store for essentials. In a change from the usual stream of errors or screens of purest blue, the London Colney store was displaying something guaranteed to bring a frizzante of recollection to system builders everywhere – an American Megatrends BIOS setup.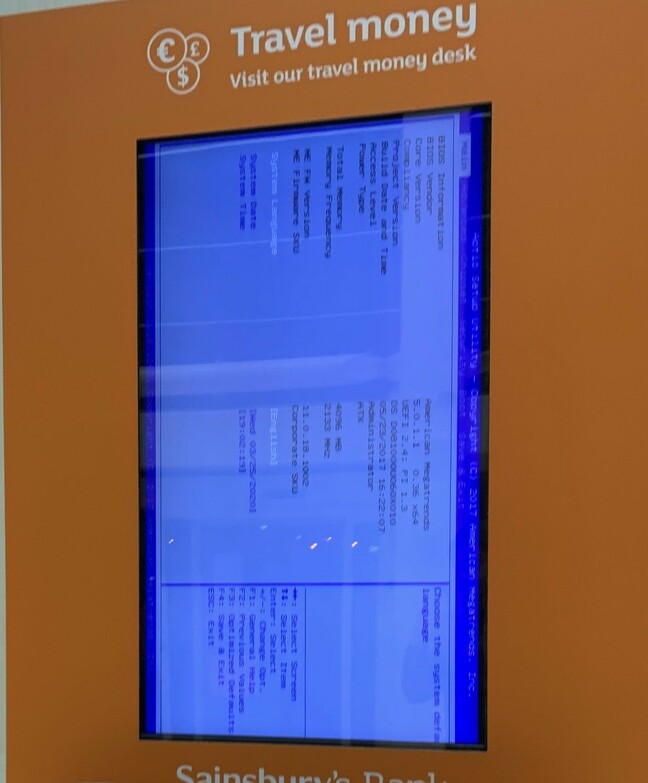 Click to enlarge
The BIOS setup screen is usually accessed by pressing one or more keys while a PC is starting and allows all manner of naughtiness to be performed, although tends to be most commonly the tool of users trying to boot off a different device rather than tinker with some of the more esoteric settings.
This hack, for example, has fond memories of trying to deal with IRQ conflicts back in the day, with the soothing screen making a welcome change from fiddling with the jumpers on a recalcitrant sound or network card.
As for why the screen is on display, who knows? We can't imagine anyone is seriously trying to change the language from English. Perhaps an unfortunate buttock was pressed on a keyboard back at HQ, with the owner of said posterior unaware of the plaintive beeping of the computer, nor where the video output was being directed.
DEL or ESC usually do the trick during boot up, although it seems like every manufacturer prefers their own key combination these days. Hopefully no further harm was done to the machine, although, let's face it – now is probably the ideal time to unleash the power of bork onto the signage of a currency exchange (this is not a dare, readers! - Ed).
We doubt there is much in the way of a tourist trade at the moment and hopping onto the currency speculation roller coaster right now could be a tad vomit-inducing.
In the meantime, while shelves may occasionally be empty and stores follow government advice, it is reassuring to know that whatever might happen in the immediate future, we will always have bork.
Have you seen Windows misbehaving or Linux doing a whoopsie? Or perhaps some firmware flimflam? Send in a snap for your shot at the bork hall of infamy. ®