This article is more than 1 year old
Could WFH web traffic topple a Brit telco? Pfff, scoff operators. This has nothing on Liverpool v Everton streaming
UK volumes quieter than mix of Call of Duty and Merseyside derby streamers, says Openreach
Britain has plenty of internet traffic "headroom" despite the explosion in remote working during the coronavirus shutdown, telcos and mobe networks have told The Register.
As those people work from home in their droves under the COVID-19 lockdown, an obvious question occurs: can my phone line and mobile network cope with all this extra traffic?
El Reg asked around the major UK operators to find out whether they were breaking a sweat over increased traffic volumes. All of them, perhaps unsurprisingly, were keen to assure that everything is well.
Overall, Britons are thrashing their home Wi-Fi and that's having a knock-on effect on mobile network traffic. Given all the public chat about Skype and other video-conferencing suites for working from home, it might surprise some to hear that voice call volumes have skyrocketed for some telcos over the past week or more.
BT Openreach was upbeat about the traffic volume, telling The Register that coronavirus isn't a pinch on the last Merseyside derby match between Liverpool and Everton back on 4 December.
A spokeswoman told us: "We're now seeing 83 per cent more traffic during the day (9am-5pm) over our fibre network compared to four weeks ago. The peak time during the day is now between 2pm and 5pm, but the daytime peak still isn't as high as the traffic we see in the evenings between 8pm and 11pm and overall the network is coping very well."
The highest traffic volume for Openreach, whose network underpins most of Britain's internet backbone as the dominant market wholesaler, was 17.5Tb/s – driven by the Merseyside derby match along with "video game updates". Usual daytime traffic volumes sit at around 5Tb/s nationwide, with that peaking nowadays at 7.5Tb/s.

DS means Download Speed. US is Upload Speed. Click to enlarge
Openreach's sister mobile network, BT-owned EE was equally upbeat about all this, telling us that mobile data traffic had actually shrunk by 5 per cent over the past month because everyone's on their home Wi-Fi instead of thrashing the networks; in the last five days alone, roaming traffic has dropped by 55 per cent.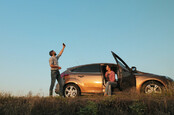 UK.gov sits down with mobile big four to formalise plans for rural shared 4G network
READ MORE
"Data usage is peaking at around 5pm, the time of the [UK] prime minister's daily briefing," another spokeswoman told us, adding that traffic is "becoming more evenly distributed across the country, as people travel into urban hubs less frequently."
On the flip side, mobile voice call volumes are up, which we are told "is to be expected". Phone-happy folks are being encouraged to "use the landline or IP voice services like Skype as well, especially for long conference calls".
Organisations are also seeing increased numbers of connections into their corporate virtual private networks (VPNs) and conferencing services. This may mean that companies need to think about how they optimise use of these private networks, or increase their provision of such services.
O2 didn't answer our specific questions about the last week's traffic compared to February but referred us to a corporate blog post where chief techie Brendan O'Reilly said voice traffic had shot up by 57 per cent during the day since 16 March, peaking between 11am to 12pm, against an expected increase of 5 per cent across the entire year.
He wrote: "We have been working tirelessly over the last two weeks, and have doubled the capacity of our voice network to accommodate all of this new traffic. This extra capacity has alleviated any initial congestion and we will monitor this and increase the capacity further if the need arises."
Vodafone vowed that its networks "remain strong and will cope with this health emergency", saying that it, too, had been bolstering capacity across its "complex network of fibre optic cables, copper wires, base stations, exchanges, masts and antennas".
A spokeswoman warned that some slowdowns might happen during the coronavirus lockdown, telling us: "On our fixed-line broadband, we are increasing capacity and there are three main places where we can do it; the central core network, the aggregation zones (526 around the country managing capacity for areas the size of Bristol, Manchester or part of London, say) and the BT exchanges, which handle the connections from customers' homes.
"The most likely place where congestion may occur for broadband customers is at the exchanges, so our engineers are going in and increasing the number of links the exchange can handle. This takes time to implement. In the meantime, a small minority of customers may experience some congestion and slower broadband speeds as a result."
We are told that over the last few weeks Vodafone engineers have "been working really hard, often overnight, adding big boxes – computing power effectively – to our core network to improve performance."
Voda customers' internet traffic is up 30 per cent over fixed and mobile networks alike, with voice traffic up by a quarter over landlines and a whopping 42 per cent over mobile. Data traffic, which "hasn't risen much", is nonetheless now being given away free for 30 days to half a million "vulnerable" customers under the strictest government lockdown orders, which seems like a nice touch.
Fibre-to-the-premises ISP Hyperoptic told The Reg that the uptick in its network traffic was noticeable. Tony Mitchell, director of network operations, said: "The key difference from a month ago isn't just the peak in traffic, it's also the pattern. Yes, there is still a 'busy hour' peak, but the traffic is also being distributed across the day, as more people are at home.
"Interestingly we did see a significant drop on Monday at 8:30pm, which we have attributed to customers temporally logging off to hear the prime minister's address and last night as well during the clap for the NHS. As our business is growing significantly year on year, our full fibre networks are designed and built to successfully manage an increase in traffic. Looking ahead, we are monitoring traffic of European network operators, as they are further ahead with the COVID-19 crisis. Our network will manage further increase in demand."
We haven't yet heard back from other notable operators around the country but if we do we'll chuck their stats in too. For now, you can work, rest and play online to your heart's content. ®