IBM has extended the window of opportunity for its Global Technology Services workforce in the UK to nominate themselves for voluntary redundancy after too few people put their hand up in the allotted time.
Some 1,248 IBMers are at risk of losing their jobs, with 263 expected to leave the business under the latest expense purge. IBM said it needs to cut costs again because GTS revenues keep shrinking.
GTS Infrastructure Services (IS) Non Delivery personnel were asked on 20 February to make an "expression of interest" (EoI) to be considered for voluntary redundancy by 3 March. IS Delivery and T&T staff had from 4 March until 16 March.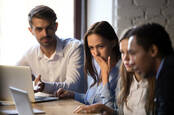 IBM puts 1,248 frontline techies at risk of redundo, warns of data centre closures
READ MORE
In an email to staff on 25 March, Brian Farr, IBM UK veep for IS, said in a roundabout way that he hadn't filled the necessary quota for redundancies.
"Today I am announcing that the opportunity to submit an EoI has been reintroduced and will be available until further notice."
"As a reminder, under this programme, IBM will offer employees the option to leave IBM with a cash payment, which will allow the company to meet its business objectives while providing a financial transition benefit for employees. I would encourage you to give it careful consideration."
For clarity, the payments volunteers can expect include stat redundancy terms, a 12-week notice period during which the IBMers will work, "career transition support" and the potential to cough an "additional pension contribution from ex-gratia payment for those that sign a settlement agreement."
Similarly, people at IS Delivery and T&T were told by Rudolph Oudeboon, UK and Ireland veep of IS Delivery, that the opportunity to file an EoI had "been re-introduced and will be available until further notice."
"As a reminder, this is an opportunity for each of you to evaluate whether you wish to make a proactive decision to leave IBM at this time," he stated, in an email to staff, who will also be given the same terms as IS "Non Delivery" people.
That IBMers aren't keen to leap into the employment abyss in the current climate is hardly surprising because their prospects for immediate employment don't appear to be promising.
Governments are forcing their citizens to go into lockdown, all but non-essential shops have been closed, and legions of the employed are working from home.
Still, IBM has shareholders to pacify and margin aspiration to hit that it thinks can be achieved by clipping the number of frontline techies that actual deliver the stuff its salespeople sell. ®