This article is more than 1 year old
Cloud'n'server hosting giant OVH more like OMG: Data center hardware failure knocks out services in France
Bad case of the Mondays
European cloud giant OVH is suffering a substantial outage today: if there's a website you can't reach right now, it's perhaps hosted by OVH..
Affected services include dedicated and virtual servers, domain names, its cloud platform, anti-DDoS protection, and support. DownDetector shows a lot of complaints of broken services from netizens in France, where OVH is headquartered. The provider blamed an "issue with our network connectivity," and its network backbone.
"We are currently checking our backbone and core network infrastructure. Services are coming back smoothly. We are still investigating," OVH said in a status update. "We continue to check our backbone and our network infrastructures. Services are gradually returning. We are continuing our investigations."
We are currently having some network issues. Our teams are fully mobilized to recover the situation as soon as possible and investigate the root cause accordingly. follow the situation here 👉 https://t.co/wxZCduidr8

— OVHcloud (@OVHcloud) March 30, 2020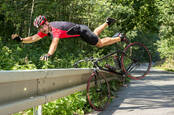 From Gmail to Gfail: Google's G-Suite topples over for unlucky netizens, rights itself
READ MORE
OVH did not initially give any specific details on the cause for the downtime, though a component in a French data center was identified. According to the OVH status page, a single vendor's faulty gear is to blame for the downtime.
"The defective infrastructure that we isolated is located at [Roubaix], primarily impacting the services of this DC," said OVH. "We escalated this incident with the manufacturer with a critical severity to diagnose and normalize the redundancy of the service."
The provider began logging the issues at around 1805 local time (1605 UTC) and by 1922 (1722 UTC) OVH reported its service were starting to come back online.
"This network incident affected the services of our Roubaix data centers from 5:01pm to 5:40pm CEST," OVH reported.
"All services now seem to be restored and our teams are now working to ensure full recovery. We are troubleshooting the cause of this incident which will be reported later. Until then, we continue to keep you informed of our progress." ®