This article is more than 1 year old
Planet Computers has really let things slide: Firm's third real-keyboard gizmo boasts 5G, Android 10, Linux support
Folds up just like a smartphone – if you ignore the size and weight
Planet Computers has announced the Astro Slide, a 5G smartphone with a slide-out physical keyboard. It will run Android 10 but with the ability to support Linux in future.
This is the third gadget from Planet Computers, following the Gemini PDA and the Cosmo Communicator. The distinctive feature of all models is the inclusion of a physical keyboard, reflecting the involvement of designers from Psion, famous for its palmtops back in the 1980s and '90s. A second key feature is support for Linux, though Android is the primary operating system with Linux to follow based on community contributions.
The Astro Slide departs from the clamshell concept in favour of a slide-out keyboard, hence the name. This is all about trying to develop a device that behaves better as a smartphone without losing the keyboard altogether. "Slide" does not do it justice; the hinge is a complex affair that moves and tilts the keyboard. There is also less metal in the casework to mitigate the extra weight. It will still be a chunky device, though, measuring 164 x 76.6 x 15mm and weighing around 300g (the Cosmo is 326g). By way of comparison, a 6.9" Samsung Galaxy S20 Ultra checks in at 220g.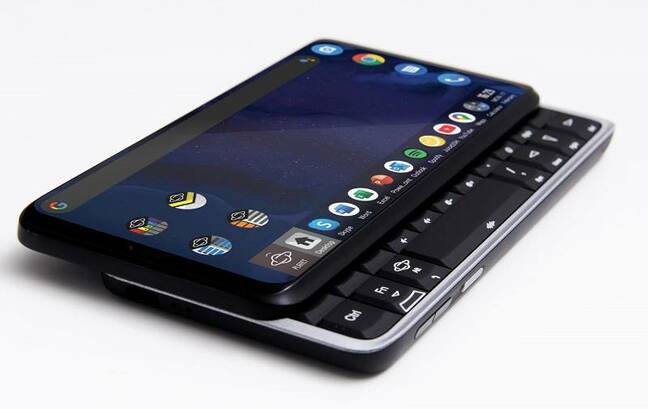 The keyboard slides out before tilting to make a palmtop
Second, the Astro sports dual 5G, meaning it supports both SA (standalone) and NSA (non-standalone) networks. According to Planet CEO Dr Janko Mrsic-Flogel, 5G is essential not only for the fast speeds it enables, but for marketing. The company had hoped to secure operator deals for the 4G Cosmo, but while there is still hope for the USA and India, "it's quite difficult to break into the carrier space in Europe because the devices are not 5G, and anything they put their marketing behind needs to be 5G," he told The Reg.
The Astro is currently only a prototype. Like its predecessors, the Astro will be crowdfunded on Indiegogo – here from 30 March – and the plan is to have the PCB (circuit board) ready for the fourth quarter this year and to show devices at CES in January 2021, with shipping to follow a month or so after.
Specifications are therefore subject to change. As things stand, the chipset will be MediaTek's Dimensity 1000 MT6889 Octa-core, with speeds up to 2.6GHz. The GPU is a nine-core Arm Mali G77, supplemented by a six-core APU (AI Processing Unit). The devices will support Wi-Fi 6, RAM will be 6 or 8GB, internal storage 128GB, and a microSD slot will be included.
The screen is 6.53" and FHD+ (2340x1080). There will be two USB-C ports with OTG (on the go) and DisplayPort support. You can install dual SIMs plus an eSIM. Rear camera will be 48MP and front, 5MP. The projected price is "similar to the Cosmo", Mrsic-Flogel told us, at something like $549 for crowdfunding advance purchases and "anything between $799 and $999" at full retail.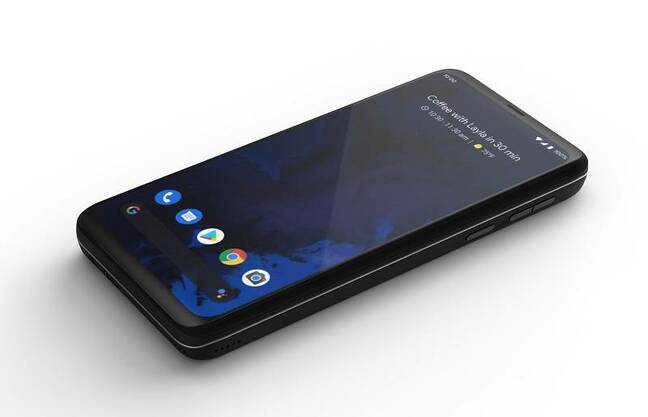 A normal smartphone? Not quite
These specs in themselves are not what will sell the device. Planet Computer has a proven but niche market of users who either consider a physical keyboard uniquely productive, or find it useful to have something more like a pocketable computer than a smartphone. Though the devices have been limited not only by price, but by being bulky and somewhat impractical when considered purely as a smartphone. Will the Astro Slide change that? We have only seen the device over a video link, in these days of social distancing, but while it seems to be moving in the right direction, we suspect the thickness and weight will still count against it.
Is Planet worried by new devices like Microsoft's Surface Duo, which also aims to combine productivity and smartphone features? Mrsic-Flogel said: "We are confident that will not impact us because it's terrible to type on the screen. Other computers in the past have tried to create a dual-screen typing experience, which has never been very good."
If you buy into that idea that only a physical keyboard will do, this may be the device for you – especially since the BlackBerry is no more. Mass market, though? Unlikely. ®