This article is more than 1 year old
What's the difference between Windows 7 and a bin lorry? One is full of garbage, and the other… oh dear
Forget the Lambeth Walk, instead enjoy the Camden Bork
Bork!Bork!Bork! Welcome to another in our uplifting series of incidents where someone else's IT misdemeanours are flashed at an unsuspecting world. Behold the bork.
Today's example was spotted on the side of a recycling collection lorry pulling out of Queen's Crescent in Kentish Town, Camden.
The venerable market street has a rich history, although has fallen on hard times in recent years. Despite hosting some of the first Sainsbury's shops back in the late 19th century, the last decade saw a decline in traders. Most recently, Camden secured £1.1m back in 2018 to breathe new life into the street.
Sadly, that new life does not appear to extend to the digital signage on local collection vehicles. By our reckoning, that looks like Windows 7 in full flow, Aero desktop and all. To be fair, the shot was taken before support breathed its last, but still – it's good to see the old thing adorning the side of something usually filled with rubbish.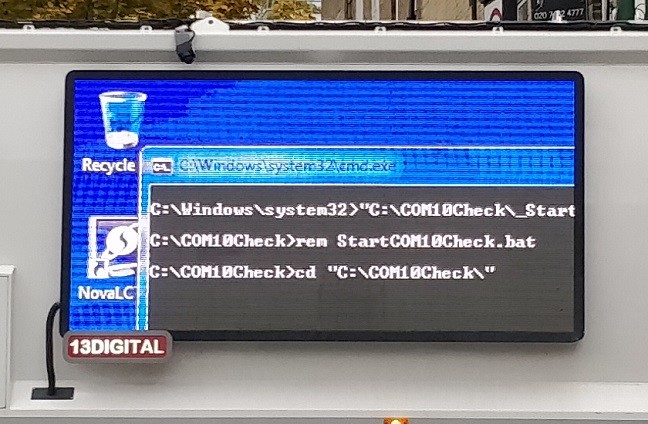 I like borking, I like borking, I like borking and I like to bork
As for what is going on, it looks like NovaLCT might be involved, but clearly somebody is having a bad time in the command prompt; we're not entirely clear what rem StartCOM10Check.bat is intended to do unless it has accidentally been copied and pasted from somewhere or a batch file is misbehaving.
Snapped by eagle-eyed Register reader Stephen, the screen normally exhorts residents to recycle and make good use of their composting bins.
Whereas now there is just the recycle bin. Perhaps it's a bit of guerrilla marketing, with an operating system that Microsoft would dearly like to see consigned to the nearest virtual landfill.
Spotted some bork on the move? Or some signage silage? The Register is seeking the best – and worst – of the breed and is awaiting your email. ®