This article is more than 1 year old
Huawei rotating Chairman: Chinese government will not 'just stand by and watch Huawei be slaughtered'
Gotta find Huawei to handle 2020: Despite rosy 2019 figures, Chinese comms giant sees trouble ahead
Huawei's rotating chairman reckons the Chinese government will retaliate against the US tech industry rather than allow the giant of the Middle Kingdom to be "slaughtered on the chopping board"* of US sanctions.
This was among the many claims and stark admissions made by Eric Xu this morning at a press conference in Huawei's Shenzhen heartland, as the business released its 2019 Annual Report – audited figures describing how Huawei weathered an undeniably challenging year.
Revenue grew 19.1 per cent to ¥858.8bn (just under £98bn). Of that, ¥62.7bn (£7.1bn) was net profit, growing 5.6 per cent - the slowest pace in three years. The embattled Chinese telecommunications kit vendor also reported cash flow growth of 22.4 per cent, reaching ¥91.4bn (about £10.4bn).
Much of this sales growth came from Huawei's Consumer Business Group (CBG), which encompasses wearables, laptops, tablets, phones and audio equipment. Despite the Trump administration's placement of Huawei on the US's Entity List in May 2019, which limits Huawei's access to US-made tech, this sector boasted year-on-year growth of 34 per cent, from ¥348.9bn to ¥467.3bn. Huawei also reported sales of 240 million smartphones during the 2019 calendar year.
Growth in the enterprise and carrier business was comparatively more sluggish, growing just 8.6 and 3.8 per cent respectively.
The biggest sign of trouble comes from the Asia-Pacific region, where Huawei reported a decline in revenue of 13.9 per cent. In the EMEA and Americas, turnover was steadier, growing by 0.7 per cent and 9.6 per cent respectively.
Phoning home
The most impressive numbers come – unsurprisingly – from China, where Huawei's revenue grew rapidly to ¥506.7bn, up 36.2 per cent on the previous year.
On its home turf, Huawei boasts intimate partnerships with the three major carriers: China Mobile, China Telecom and China Unicom. As an example, the firm was awarded half of China Mobile's 5G infrastructure contracts last June, with Nokia and Ericsson taking just 34 and 12 per cent respectively.
The domestic market also represents fertile ground for the Huawei CBG, where it offers China-exclusive phones and laptops, as well as a mobile services ecosystem that can operate without any competition from the Google Play Store.
It's worth looking at these figures in context. The US Commerce Department placed Huawei on an Entity List in May 2019 – almost three months after the release of the P30 and P30 Pro flagships, which were sold with the complete Google Mobile Services (GMS) platform.
Prior to imposition of the embargo, Huawei had already licensed Google's software for some of its upcoming devices, including the Honor 9X, which ran with the full-fat version of Android. The firm had also accumulated a vast stockpile of components and inventory, allowing it to continue operations without any real disruption.
Furthermore, it was only towards the end of 2019 when the US government started publicly imposing pressure on carriers to stop procuring equipment from Huawei. In November, this culminated in the FCC blocking carriers from using government subsidies to purchase infrastructure from Uncle Sam's least favourite vendors: Huawei and ZTE.
Risky business
By all accounts, 2020 will be an even more testing year than 2019, with Xu saying as much. During the annual results press conference, he cited concerns with the ongoing nature of the Trump Administration's entity list, as well as potential inventory stockpile shortages.
"2020 is going to be a very crucial year to test whether Huawei's supply continuity program can work in an effective way," he remarked. Huawei also faces potential supply-chain woes independent of the US government, thanks to the spread of Covid-19, which has caused an economic shutdown in most industrialised nations.
"If some individual suppliers cannot continue supplying us, it will cause long-term challenges, as well as uncertainty over whether Huawei will continue supplying the market," said Xu.
Despite that massive admission, the chairman was bullish about Huawei's short-term prognosis, noting that the firm's manufacturing plants had fully resumed operations, and was suffering no immediate supply-chain disruption.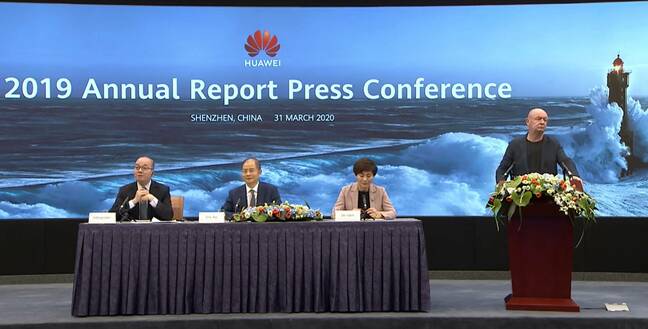 Look ma, no social distancing.
Things aren't quite as rosy on the carrier side, with Xu highlighting deteriorating relationships with foreign carriers as a result of the actions of the US government, which could harm the firm's prospects in 2020.
"The pressure coming from the United States on Huawei has had quite a substantial impact. At the very least, it has created a lot of extra workload. We had to take a lot of time explaining with our customers, partners, and government regulators," he said.
"There are also several cases where Huawei equipment was used to power 2G, 3G, and 4G networks, and yet the customer didn't choose Huawei for 5G, or didn't choose Huawei for selected geographies. Those examples include Optus and VHA in Australia, TDC in Denmark, and [Telecom] Italia in Italy," moaned Xu.
Huawei remains firmly within the crosshairs of the US government – particularly after the UK agreed to allow Huawei's limited participation in the ongoing development of Blighty's 5G networks. This move provoked a fiery rebuke, not merely from President Donald Trump, but also from Republican Party grandees, like one-time presidential candidate Newt Gingrich.
Watch out, Trump
There's always a prospect that the US could redouble its efforts to undermine Huawei, by imposing more punitive restrictions and barriers to its foreign business. If that should happen, Xu said, the US should expect repayment in kind from the Chinese state.
"The Chinese government would be in no other position but to impose similar measures on [other] companies," said Xu. "I don't think the Chinese government would just stand by and watch Huawei be slaughtered on the chopping board."
Xu also noted that any such measures would ultimately backfire, with Chinese firms looking towards other suppliers, both foreign and domestic.
"Even if the situation happened, Huawei and other [Chinese] companies can buy from other companies, including Samsung and MTK. And, in the long term, there would be many Chinese companies that would start working on chipsets," he said.
* Yes, we know animals are not slaughtered on chopping boards, but we thought Xu painted a graphic picture. ®