This article is more than 1 year old
Microsoft expands AI features in Office, but are they any good? Mixed, according to our vulture
Plus note to admins: sending content to Microsoft is on by default and users cannot disable it
Hands On Microsoft made a number of Office 365 Microsoft 365 announcements yesterday, including touting an expanded set of AI capabilities in its core applications.
The new AI features, pulled out alongside a name change for most plans from Office 365 to Microsoft 365, centre around Microsoft Editor, a service which the company claims will help you "write polished prose, craft impressive emails, and posts on your favourite sites like LinkedIn, Gmail, Facebook, and more." Microsoft Editor is a new name for technology first introduced in Word, but now with wider scope.
The Editor checks your document not only for basic grammatical and spelling errors, but also for more subjective and complex issues such as inclusivity and gender bias, age bias, wordiness, use of clichés, complex wording, and vague or unnecessary adverbs. In Word many of these seem to be off by default, but a trawl through Word's Grammar and Refinements settings shows over 100 options.
On Word online, the Editor pane is marked as preview and has a different and smaller set of options, though it includes a handy Stats panel with a readability score, word count, and estimated time to read or speak. The Editor pane is now available in French, Spanish, English and German, and can make suggestions in over 20 content languages. Newly announced is the Similarity Checker, coming in a few months to Word online, which sounds like a plagiarism checker, and will "make it easy to insert relevant citations." Rewrite suggestions, another web-only Editor feature, has been expanded to cover entire sentences rather than just phrases.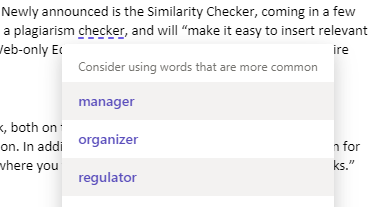 Microsoft Editor considers "checker" an uncommon word. Time to give Similarity Checker a new name?
In Outlook, the Editor will now be available both on the desktop and on the web. Microsoft 365 subscribers will get a more advanced version. In addition, there will be an Editor browser extension for Edge and Chrome, which you can use anywhere you type text. This is coming "in the next few weeks."
Microsoft Editor is built on Azure AI, according to this post, which says it is "powered by AI models built with Azure Machine Learning."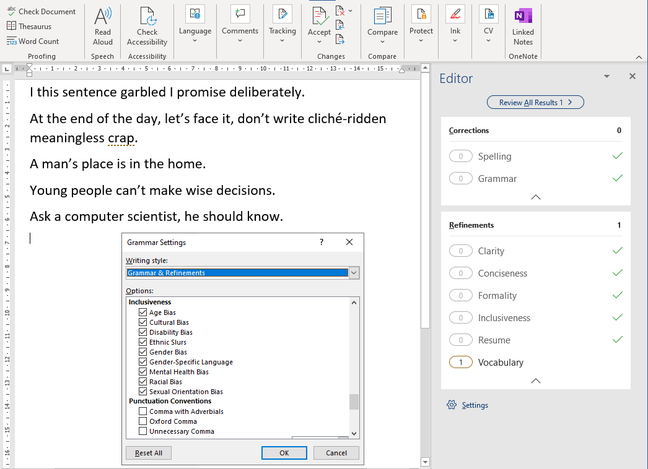 Word Editor gives a pass to most of our bad writing efforts
How do you test Microsoft Editor? We wrote a few sentences that seemed in need of improvement, making sure to set options that covered the features being tested. The results were not what we expected. At the end of the day, Microsoft Editor failed to identify what seemed to us to be obvious clichés. It did identify "crap" as profanity, but writing, "ask a computer scientist, he should know" did not trigger its gender bias detection. We also tried it on "I this sentence garbled I promise deliberately."
The desktop Word Editor is fine with it. Word online though felt that "garbled" was an unusual word and could usefully be replaced with "mangled". Asked to rewrite the sentence, it offered "I garbled I promise deliberately" and "I this phrase garbled I promise purposely."
Maybe this is the wrong way to test Microsoft Editor. Maybe the challenge of taking someone's mangled, cliché-ridden, gender-biased prose and transforming it into something lucid, balanced and objective is too demanding for AI, bearing in mind its limitations. Microsoft notes that "Microsoft Editor will evolve, becoming more helpful and accurate as we incorporate feedback from our customers."
Privacy
There is another matter, though, which is that when you use Microsoft Editor, your content is sent to Microsoft's servers for analysis. That is entirely reasonable, but raises the obvious questions of how your data is handled, who has access to it, and what to do if you are authoring a confidential document on local storage and do not wish your content to be sent to any internet service.
You would think that this would be a user setting, as it used to be, but last year Microsoft made a change to privacy controls for Office 365 Pro Plus (now to be called Microsoft Apps for Enterprise). The new controls mean that users who are part of an Office/Microsoft 365 organisation cannot individually set whether or not their content is sent to Microsoft. "Your users won't be able to choose whether to turn these connected experiences included with Office 365 ProPlus on or off if they are signed into Office with their organizational credentials, which is sometimes referred to as a work or school account," the document explains.
Administrators can set this centrally, via policies. If the policies are not configured, then sending content to Microsoft is on and users cannot turn it off. Users do have control over a few optional "connected experiences," such as Smart Lookup (right-click definitions that are actually useful) and Outlook Weather.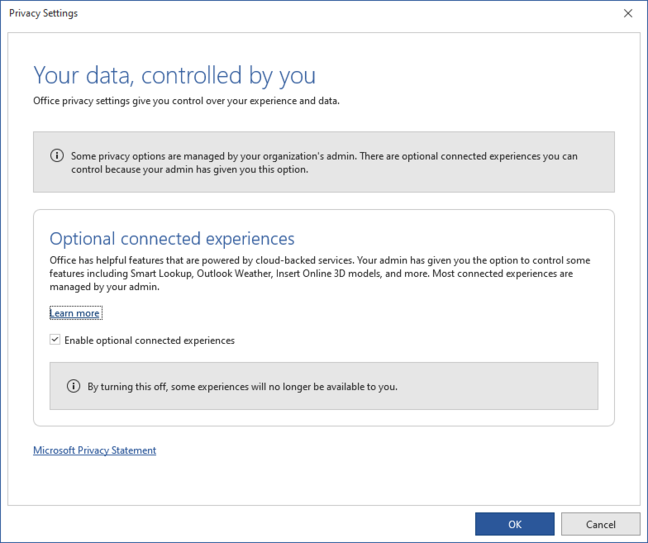 If your admin has done nothing, users see this dialog in Office stating that most connected experiences cannot be disabled
How does Microsoft manage and protect this data? As a user notes in a comment to Microsoft's statement on Required Service Data for Office, "a little more detail on how Microsoft uses the collected data" would be welcome. The question was asked in May 2019 and has not been answered, despite further comments that "this information is very much needed," for compliance and confidentiality reasons.
Microsoft has a promising site called Office Privacy Center which looks like it might answer such questions, but it is disappointing, referencing Microsoft's generic privacy policy, and looping back to how to change settings in order to opt out. There is an Office section in the privacy statement but again no detail. Microsoft does state: "We will not use your email, chat, files or other personal content to target ads to you."
The cautious approach is to turn off the connected experiences, though it is unlikely that any confidential data is in danger of interception. The other question though is whether the AI services are sufficiently useful to be worth turning on. In the right circumstances, perhaps they are, but our brief investigation suggests that there is a bit of over-promising going on here. ®