You're not fooling anyone on that vid-conference call: Walmart says shirt sales soaring, pants not pulled up
Oh no, we've been rumbled
---
With workers opting to telecommute and dial into video conferencing amid the coronavirus lockdowns, where possible, sales of formalwear are up... partially.
Walmart, the world's biggest company by revenue with $0.5tn in annual sales, reports that people are buying more dress shirts yet fewer pants (trousers for you Brits, lest anyone get the wrong idea about what's happening here).
Basically, the American retail super-giant says that, following a sudden surge in folks working from home and video-conferencing with colleagues, the store has seen soaring sales for business shirts, but not much demand for leg coverings.
"In one of your previous segments you were talking about people with Zoom, and doing those types of conferencing," Walmart executive VP of corporate affairs Dan Bartlett said in an interview with Yahoo! Finance this month. "We're seeing increased sales in tops, but not bottoms."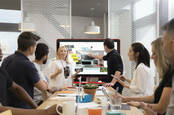 Yeah, that Zoom app you're trusting with work chatter? It lives with 'vampires feeding on the blood of human data'
READ MORE
In other words, it seems we are all eager to put on airs about being dressed for success on camera, but down below, not so much.
Full disclosure: your humble hack is writing this passage clad in comfy shorts and a circa-2015 Golden State Warriors playoff giveaway shirt. We are not immune to these trends.
The disparate sales make some sense as much of the US has been pushed to work from home, if possible, and rely on videoconferencing apps in place of daily meetings. Despite its privacy shortcomings, Zoom has seen a jump in its stock price and usage as remote workers have become the norm for many firms. In some cases, VPN traffic is overwhelming corporate networks as workers connect in to show off their fancy tops.
If you thought you were following anyone with the dress-shirt gym-shorts-slash-yoga-pants combo, it turns out you are far less original than you thought. It is an entire trend.
Walmart does not expect this to change, apparently, and the retailer said it is planning for a future where we are all business up top and party in the rear.
"These behaviors are going to continue to change and evolve as people get accustomed to this new lifestyle, if you will," Bartlett said. "And we're able to accommodate that, both online and in our stores."
In case you're wondering how El Reg is coping with working from home, just follow US editor Iain Thomson and his daily battle to liven up our video conference meetings in these dark times. ®