This article is more than 1 year old
Internet use up 40 per cent in San Francisco Bay Area – but you know what's even higher? Yep, alcohol, weed use
Techies, non-techies respond to COVID-19 by self-medicating at home
With the San Francisco Bay Area, including Silicon Valley, on its third week of self-quarantine, and facing at least another month of being stuck in near-lockdown at home, habits have changed.
Internet use has jumped by roughly 40 per cent, with millions working from home, where possible, and using video-conferencing to get their jobs done and stay in touch. But an even greater shift has happened around how people are coping with isolation, namely by getting off their heads.
Coronavirus has, for now, killed off bars, nightclubs, cafes, and restaurants, though it's boom time for stores and establishments still selling alcohol – and the delivery services bringing it to your home.
According to one biz selling breathalyzers that connect to your smartphone, San Francisco-based BACtrack, we're turning to the good stuff. We gave one of BACtrack's devices a road test a few years ago at El Reg's offices and nearby boozer, just before New Year's Eve.
The devices can send back telemetry to their maker, and that data has shown exactly what you would expect to see among a population stuck in their homes worrying about the implosion of the economy and reflecting on the impending death of as many as 240,000 fellow citizens (and that's with social distancing).
Yep, we're drinking more. A lot more – 42 per cent more according to BACtrack. Its CEO Keith Nothacker (yes, real) heard anecdotal information about the change in habits and decided to "go check the data. Sure enough, drinking had exploded post-shelter-in-place."
Testing, testing
The breathalyzer biz reviewed 500 tests in the Bay Area in the past week, and the blood alcohol concentration levels told their own story, it is claimed. Less than a week before quarantine, the average level displayed by tests was just 0.02 percent.
A week later, and with "sheltering in place" in place, that jumped to 0.045 per cent, we're told. Five days later, 0.077 per cent, which is basically the legal limit for driving. Yeah, it's not particularly scientific, but you get the gist. We're getting sloshed.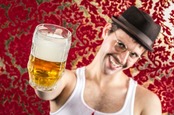 Beer necessities: US chap registers bevvy as emotional support animal so he can booze on public transport
READ MORE
The other stark piece of data was that numbers jumped on days that are usually very low for drinking ie: mid-week. The same thing is happening with BACtrack customers right across the country as folks were urged to stay indoors, Nothacker told the San Francisco Chronicle.
That fits with reports from delivery firms, particularly alcohol shifters like Wine.com. With people trying not to leave their house and not wanting to queue up at liquor stores, online sales have rocketed 400 per cent, according to the company.
And this is to be expected: people can't drink at bars, so they take it home where they may well drink more than they normally would.
Perhaps the biggest and best known US alcohol retailer, Bevmo, has had to institute strict limits on who can buy and deliver from its huge warehouse-like stores.
"In order to serve you as quickly, safely and efficiently as possible, we are currently only accepting online orders for in-store pickup/delivery and all orders from our delivery partners: DoorDash and Drizly," says a huge notice at the top of its website at the moment. "We are currently not accepting walk-in transactions unless pre-ordered and notified that your order is ready."
Bevmo also claims to be able to deliver to "anywhere within California, Arizona and Washington," though its website has had major problems in the past few days. This Bay Area reporter speaks from personal experience: there's $120 worth of alcohol on order from Bevmo that this vulture wants in his face, but your delivery selection system isn't working – get with the program.
Sorry, where was I? Yes, for some reason alcohol seems like a good solution right now to a lot of people. And even the authorities agree: usually strict regulations have been relaxed so bars and restaurants can deliver cocktails to hungry customers. (The World Health Organization says drinking as a coping mechanism is unhelpful.)
And, in a concept that would have seemed surreal or just pathetic a month ago, online happy hours where friends and family meet up on the internet and share a drink with one another while chatting have become increasingly popular.
Hey buddy
Of course, this is California which recently legalized recreational cannabis. And for those for whom alcohol is not their self-medication of choice, the bud has proven to be just an enticing for those stuck inside binge watching TV shows like Tiger King – yes, it's a thing. A mad, mad thing.
In fact, the authorities rapidly backtracked and added cannabis dispensaries to "essential services" that can stay open after they were swamped with citizens panic buying. And the rules were also relaxed so people can pick up cannabis from their cars outside, where previously strict rules were in place requiring people to present an ID before they were even allowed into a store.
So how is the cannabis business going? It's on fire, literally and figuratively. Industry websites have reported an explosion in orders and deliveries.
While traditional consumers of alcohol are still paying normal prices though, the cannabis industry – which for decades fought for and won medical exemptions for its products claiming health benefits – has taken a more hippy-like approach.
One San Francisco weed store decided that with times hard and stress levels through the roof, those with official medical cannabis cards could get some "compassion" cannabis at a reduced price: $1 rather than the normal $75. The supply sold out within hours.
So lift up a glass or light up a fattie because staying at home for weeks on end may be a drag, but it is slightly more bearable if you're intoxicated. ®