This article is more than 1 year old
Internet Archive justifies its vast 'copyright infringing' National Emergency Library of 1.4 million books by pointing out that libraries are closed
Authors, publishers unimpressed
The Internet Archive has defended its decision to make its collection of 1.4 million books readily available online, despite most of them still being in copyright, by arguing that public libraries are currently closed.
In a blog post this week, the organization best known for preserving billions of web pages, responded to furious denunciations from authors' and publishers' organizations that have called it an "aggressive, unlawful, and opportunistic attack."
"Last Tuesday, we launched a National Emergency Library – 1.4M digitized books available to users without a waitlist – in response to the rolling wave of school and library closures that remain in place to date," the organization notes, adding: "We've received dozens of messages of thanks from teachers and school librarians, who can now help their students access books while their schools, school libraries, and public libraries are closed."
It's perhaps not surprising that people are happy about being provided free access to a million-plus of books but gratitude is short supply from those who wrote and published the books in the first place.
"The Authors Guild is appalled by the Internet Archive's (IA) announcement that it is now making millions of in-copyright books freely available online without restriction on its Open Library site under the guise of a National Emergency Library," it said in a statement, noting that it "has no rights whatsoever to these books, much less to give them away indiscriminately without consent of the publisher or author."
It's not a fan of the Internet Archive's coronavirus explanation either: "We are shocked that the Internet Archive would use the Covid-19 epidemic as an excuse to push copyright law further out to the edges, and in doing so, harm authors, many of whom are already struggling."
Caustic
A response from the Association of American Publishers (AAP) was even more caustic: "It is the height of hypocrisy that the Internet Archive is choosing this moment - when lives, livelihoods and the economy are all in jeopardy - to make a cynical play to undermine copyright, and all the scientific, creative, and economic opportunity that it supports."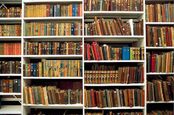 Internet Archive opens National Emergency Library with unlimited lending of 1.4m books for stuck-at-home netizens amid virus pandemic
READ MORE
Meanwhile, the Internet Archive has doubled down, arguing that under its interpretation of copyright law, the unlimited lending is perfectly fine. It points out that it has acquired the books legally, just like a traditional library, and that it is recognized as a library by the government.
And then it argues that under the concept of "controlled digital lending" (CDL) where digital versions are loaned out to readers one at a time, something itself built on the legal doctrine of "fair use" that it is perfectly legal to "loan" the digitized versions of the books it has acquired.
CDL is a controversial and untested US legal theory whose roots are found in a white paper published in 2018. It argues that libraries are not infringing copyright when they make digital copies of books they possess.
The APP calls it a "flawed theory," and in its counterargument to the white paper, back in 2019, it argued that it "repeatedly blurs the line between works and copies in its analysis, ignoring well-established legal distinctions between these terms in the Copyright Act as well as the reality that Congress imposed statutory limitations on library lending."
The Authors Guild meanwhile has been sending hundreds of takedown notices a year to the Internet Archive telling it to remove specific works from its Open Library. It claimed the organization is "once again undermining authors' ability to make a living and decide who gets access to their copywritten material."
Legal war brewing
So far a full-blown war between the two sides has been avoided, but with its decision to remove the lending stop-gap by "removing the waitlist" – and so effectively publishing copyrighted works for free online to anyone that registers with the site – The Internet Archive may have pulled the pin on a copyright grenade.
It continues to argue that because there remain restrictions on use – the digital versions are ebooks that use technical protections and typically require special software to read, plus readers can only "borrow" a book for two weeks before having to "renew" it – that it is not breaking any laws.
The Internet Archive also said that the lifting of the previous restrictions on lending are only temporary while "libraries around the country and globe are closed due to the COVID-19 pandemic," and that they will "run through June 30, 2020, or the end of the US national emergency, whichever is later."
But clearly authors and publishers are concerned that if they don't challenge the IA's legal theory and in particular its new theory that it is free to decide when and how to suspend lending rules, that it could set a precedent that it will invoke again in future.
With the Internet Archive arguing it has the right to open up its digital archive, the likelihood of a court clash is growing. And if it does happen, it is likely to go to the very top of the legal system, setting what could be a long-lasting precedent over copyright in the digital era. ®