This article is more than 1 year old
Amazon says it fired a guy for breaking pandemic rules. Same guy who organized a staff protest over a lack of coronavirus protection
Wow, how convenient
On Monday, Amazon fired Chris Smalls, a worker at its Staten Island, New York, warehouse, who had organized a protest demanding more protection for workers amid the coronavirus outbreak.
Smalls, in a statement, said, "Amazon would rather fire workers than face up to its total failure to do what it should to keep us, our families, and our communities safe. I am outraged and disappointed but I am not shocked. As usual, Amazon would rather sweep a problem under the rug than act to keep workers and working communities safe."
Amazon spokesperson Kristen Kish denied the firing had anything to do with protected labor activity. "We did not terminate Mr Smalls employment for organizing a 15-person protest," she said in an emailed statement. "We terminated his employment for putting the health and safety of others at risk and violations of his terms of his employment."
Strike organizers have disputed Amazon's attendance figures, claiming about 50 people walked out.
Kish said Smalls had received multiple warnings for violating social distancing guidelines and had been asked to remain home with pay for two weeks because he had been in the proximity of another worker confirmed to have COVID-19. By ignoring that instruction and coming on-site, she said, he was putting colleagues at risk.
Concern about health safety has spread across Amazon's workforce. Workers at Amazon's Whole Foods grocery chain on Tuesday staged a sick-out, demanding 2x hazard pay for working in stores where they may be exposed to coronavirus.
The company last month boosted pay for Amazon and Whole Foods hourly employees in the US and Canada by $2 an hour and £2 per hour for employees in the UK during the month of April. And it said it would double its hourly base rate – ranging from $17.50 to $23/hour at JFK8, its Staten Island warehouse – for overtime from March 16, 2020 through May 3, 2020. The company has also offered two weeks of pay for workers quarantined for coronavirus.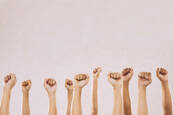 Amazon Germany faces Christmas strikes from elf stackers, packers and dispatchers
READ MORE
Kish disputed Smalls's claims, and praised the heroism of Amazon workers. "These accusations are simply unfounded," she said. "Of the more 5,000 employees at our Staten Island site, 15 people – less than half a percent of associates – participated in Monday's demonstration."
A training video leaked in 2018 describes Amazon's stance on unions thus: "We are not anti-union, but we are not neutral either. We do not believe unions are in the best interest of our customers or shareholders or most importantly, our associates."
Amazon workers in Detroit and Chicago have also protested their working conditions during the pandemic.
Concerns about coronavirus may help end up improving worker benefits beyond Amazon, at least among those who manage to retain their jobs. On Wednesday, US Senator Elizabeth Warren (D-MA) sent a letter to the CEOs of gig economy employers DoorDash, Grubhub, Uber Eats, and Instacart urging them to classify delivery workers as employees rather than independent contracts to "provide appropriate pay, benefits, and protections during the novel coronavirus 2019 (COVID-19) pandemic."
New York State Attorney General Letitia James on Monday condemned Amazon's dismissal of Smalls, and asked the US National Labor Relations Board (NLRB) to investigate the incident.
"It is disgraceful that Amazon would terminate an employee who bravely stood up to protect himself and his colleagues," said James in a statement. "At the height of a global pandemic, Chris Smalls and his colleagues publicly protested the lack of precautions that Amazon was taking to protect them from COVID-19."
Recent changes to NLRB rules and personnel may give Amazon an edge if there is an investigation. William Emmanuel, appointed to the NLRB in September 2017, worked at law firm Littler Mendelson, known for helping employers fight unions. Amazon was one of his firm's 162 corporate clients.
Following Emmanuel's confirmation, Senator Warren (D-MA) and other Democratic lawmakers wrote him a letter [PDF] expressing worries about his ability to set aside his past work. "We are concerned about your long history of representing employers wishing to make it harder for workers to bargain collectively," the letter says.
In response to lawmaker inquiries, Emmanuel pledged [PDF] to recuse himself from cases involving former clients for two years following his appointment, until September, 29, 2019.
On Tuesday, US Representative Jerry Nadler (D-NY) also questioned Amazon's firing of Smalls. "If he was indeed fired for union organizing activity, that is entirely unacceptable and so I welcome ⁦@NYCCHR⁩ [New York City Commission on Human Rights] investigating this matter further," he said via Twitter on Tuesday. ®