The rush to work from home as COVID-19 grips Europe has led to bumper sales of related tech for distributors, official stats confirm.
The UK government has followed policies enacted in Italy, Spain and France by locking down citizens to contain the spread of the novel coronavirus, while remote working in other regions of the continent has picked up speed.
Context, which tracks shipment data for the region, logged a marked rise in demand for certain kit including PCs and audio-visual (AV) hardware for the eight weeks to 15 March compared to the same time frame a year earlier.
Among the biggest sellers in Europe were headsets, headphones and microphones useful for people jumping onto conferences calls – growing 57 per cent year-on-year.
In some countries, demand for AV systems sent shipments soaring by triple digits, with unit sales in Italy – which has seen the highest number of deaths from COVID-19, the respiratory disease caused by the novel coronavirus – up 292 per cent. Sales in Portugal went up 252 per cent, 163 per cent in Finland, 144 per cent in Austria, 135 per cent in Switzerland, and 125 per cent in Germany.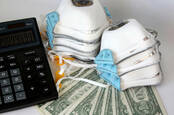 Supply, demand and a scary mountain of debt: The challenges facing IT as COVID-19 grips the global economy
READ MORE
In the smart home subsets of smart security, access control and assisted living, sales bounced 85 per cent across Europe, with France and Spain reporting the biggest lifts.
Notebooks are obviously in high demand, as our article revealed weeks ago, but according to Context data, desktop computers have also seen a decent rise in sales via distributors in the eight-week period, growing 22 per cent, with desktop workstations rising 16 per cent.
"IT channel businesses have met a growing demand for products enabling home and remote working as employees were put on lockdown across much of Europe over the past two months," said Howard Davies, Context CEO.
"We can see how quickly the situation is changing in each country."
Other areas doing well in the current climate include telephony and conference systems, up 17 per cent in Europe, as UPS climbed 15 per cent and solid-state drives grew 15 per cent. ®
Similar topics