This article is more than 1 year old
Fitbit unfurls last new wearable before it's gobbled by Google, right on time for global pandemic lockdown
Track your jogs around the block – while those are still allowed
The gyms are shut. The government wants you to stay indoors. You can only leave your home once per day. And nobody, it seems, told Fitbit, which this week announced its latest calorie-counting, timber-trimming wearable – the Fitbit Charge 4.
This wrist-worn Mr Motivator is very much business as usual, representing a fairly modest upgrade on the previous Fitbit Charge 3, released in August 2018.
The aesthetic remains pretty much unchanged. Put the two wearables on a police lineup and you'd struggle to tell the difference.
The biggest upgrade comes in the form of a built-in GPS receiver, allowing the user to cartographically track their government-approved daily jog. This allows the user to automatically register important metrics, like pace and distance.
For the sake of clarity, the previous model allowed the user to track their workouts via GPS, but it had to be consistently connected to a smartphone.
Some people are understandably reluctant to lug their pricey mobes with them while exercising. The reason why should be obvious: there's always the risk they could pop out of pockets mid-bike ride, resulting in cracked iPhone and Galaxy screens. This update, therefore, makes the Fitbit Charge a more viable self-contained exercise companion.
Fitbit has also slathered attention on the software side of the Charge 4. This includes a feature called Active Zone Minutes, which is designed to track high-intensity workouts by measuring how long the user's heart rate is at a sustained, active level. Calculating this requires the user to fork over detailed information about their physical condition, including height and weight.
Besides that, the Charge 4 retains the same features as its predecessor, including notifications, Spotify controls, and a small ecosystem of applets.
As before, it also includes Fitbit Pay, which allows its sweat-soaked owner to buy things with their watch, including, for UK users, getting about with Transport for London. Bank support, sadly, is limited, with Santander and Northern Ireland's Danske Bank the only mainstream financial institutions working with the platform. That said, the service is compatible with a decent array of challenger banks, including Revolut and Bunq – but sadly not Monzo.
The Fitbit Charge 4 will cost £129.99 when it goes on sale later this month. For aesthetically minded gym bunnies, there's also a pricier Special Addition model, which packs a nicer wristband. The core functionality, however, will remain the same.
From Fitbit to Chocolate Factory
The Fitbit Charge 4 is also the first device released by the company since Google announced its intent to acquire it in November. The deal is still in the pipeline, but values Fitbit at a cushty $2.1bn.
Devices like the Charge 4 are Fitbit's bread and butter. They're typically priced towards the bottom of the pack, compared to the firm's more capable Versa line of sub-smartwatches. But it's also a category of wearable that's under pressure due to the rise of affordable Wear OS and WatchOS devices.
For £70 more than the Fitbit Charge 4's asking price, you can get the eminently more potent Apple Watch 3, which Cupertino has positioned as an entry-level introduction to Apple's wearable line. And, on the Android front, there are no shortage of bargain-basement WearOS devices, including the recently reduced Fossil Sport, which costs about £100.
Data from Gartner paints a less-than-rosy picture for the basic fitness wearable sector, with spending on devices forecast to slump from $3.4bn in 2018 to $3bn in 2021. Meanwhile, consumer spending on smartwatches is expected to skyrocket, from $12.4bn in 2018 to $27.4bn in 2021.
There's also no shortage of Chinese manufacturers who are all too eager to undercut Fitbit with their own pocket-money fitness bands.
The Xiaomi Mi Band 5, for example, costs £34.99. Huawei's youth-focused subsidiary, Honor, makes an even cheaper one – the Honor Band 5 Sport retails under £20.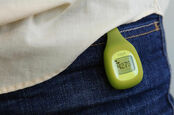 Got a Fitbit? Thought you were achieving your goals? Better read this
READ MORE
That's not to diminish the value Fitbit still offers to consumers. It boasts an active population of users, who compete via the firm's social platform. And, as an incumbent player in the market, punters are more inclined to trust the metrics their Fitbit wearables produce – well, sometimes. It's these attributes that have allowed Fitbit to stand tall in the face of fierce competition from both sides of the market.
It's unclear whether Google will absorb Fitbit entirely, or choose to preserve the brand as it did with Nest. Either way, the acquisition promises Mountain View an influx of sector-specific software engineering and manufacturing nous. If things go right, it should help Google regain ground captured by Apple. ®