There are few surprises around UK pricing and availability for Huawei's latest P40 handsets, which are more or less consistent with previous P-series models – but they are missing a few things punters may not be too, er, appy about.
Huawei's entry-level P40 retails at £699 and sits in limbo between the mid-level and flagship brackets. That's arguably justified since it packs Huawei's new RYYB sensor and the same Kirin 990 5G platform as its bigger brothers.
However, there's no Qi charging to speak of, nor does the kit come with Huawei's new 60W fast-charging tech, which promises to fully replenish your phone's battery in under an hour.
For that, you'll have to buy the P40 Pro, which retails at £899. In addition to the aforementioned, this packs better optics, with a competitive quad-sensor camera array.
Headlining is the same competent 50MP RYYB primary sensor as the bog-standard P40, albeit accompanied with an ultra-wide cinematography lens, a telephoto lens, and a time-of-flight sensor designed to improve autofocus and portrait shots.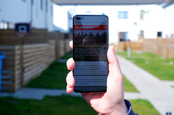 Huawei P40 Pro: Camera setup really captures the misery of an empty world foods aisle
READ MORE
The P40 Pro is a bit cheaper than its equivalents, including the Galaxy S20 Ultra and the iPhone 11 Max. UK launch pricing for this effort is the same as last year's P30 Pro. But will it be enough to convince users to ignore the absence of the Google Play Store, and all the other apps bundled as part of Google Mobile Services (GMS)?
Timing is everything
Perhaps the only surprise here is how quickly Huawei is bringing the P40 family to market in the UK.
The series was announced last week, and will hit shelves on April 6. By contrast, Huawei waited six months after the China launch to bring the Mate 30 series to the UK, which is almost an age in consumer tech terms.
That delay was presumably, in part, a result of Huawei's need to bolster the AppGallery with apps that would be relevant to a Western audience. And already it has made some progress, attracting the likes of Microsoft, Amazon and SnapChat. However, there's still a long road to go, with major players like Facebook conspicuously absent.
As with previous launches, Huawei is throwing in a few goodies to entice pre-orders. Those who buy a phone before the launch date will get a pair of Huawei's Freebuds 3 wireless earphones, a wireless charger, and a 40W wireless car charger.
Actually, no. Apps are everything
This correspondent got his mucky mitts on the P40 Pro last week. First impressions were positive. As tends to be the case with Huawei flagships, the camera is utterly sublime with fantastic detail and colour reproduction.
But ultimately, the success of the P40 series in Western markets will hinge upon the AppGallery, and how quickly Huawei can bridge the gap with the Google Play Store.
In the worst-case scenario, Huawei could find itself in the same situation as MSI in 2008, which released a bunch of Linux-equipped mass-market netbooks, only for them to be returned by customers at a rate four times greater than their Windows equivalents.
There's a real prospect Huawei will have to weather an influx of refunds from people who didn't realise their shiny new mobiles can't run WhatsApp without a bit of technical fiddling. And while that would be disastrous for Huawei's sales figures, it'd far worse for the Huawei brand, harming the company later on.
As you'd expect, Huawei is throwing huge sums of money into its ecosystem, with $1bn earmarked for the AppGallery. The firm also employs 3,000 dedicated ecosystem software engineers. And that's without mentioning broader efforts, like the Global Developer Service Alliance, which is designed to wean China's biggest mobile players from the Google Play teat.
That said, it's still too early to see whether that will translate into concrete developer interest.
Suffice it to say: both Huawei and Google will be keenly watching how the P40 series fares. ®