Intel and Broadcom were the lone beacons of success in an otherwise dismal semiconductor market last year, according to industry analysts at Omdia (formerly IHS Markit).
While the semi industry as a whole shrunk by 11.7 per cent, revenue-wise, in 2019, Chipzilla expanded its cash intake by 1.3 per cent, year on year. According to Omdia, that allowed Intel to blow past Samsung as the number-one cash-generating king, in terms of annual revenues.
The analyst firm reckons Intel accounted for 16.5 per cent of the total world semiconductor market, based on its reported $70.78bn revenues.
In comparison, number-two Samsung is said to account for 12.3 per cent, and number-three SK Hynix 5.3 per cent, with both of those figures falling – Samsung sales were down 29.7 per cent to $52.5bn and SK Hynix revenues dropping 36.9 per cent to $22.7bn – the analysts said. Meanwhile, Broadcom, fifth in the market, stood out for growing its annual sales by five per cent to $18.3bn; pretty much everyone else, bar Intel, declined.
The rankings, we note, do not including chip mega-fab TSMC (2019 revenue: $35.7bn) because the listed companies appear to be semiconductor designers rather than contract manufacturers. And AMD (2019 revenue: $6.7bn) didn't make the top ten. Nvidia, at $9.5bn, down seven per cent, is placed ninth; Qualcomm, $14.4bn, down 13.3 per cent, is sixth.
"It was a year when global semiconductor revenue fell by the greatest percentage in at least two decades, when eight of the top-10 chip suppliers suffered revenue declines and when sales fell for every application market and for every global region," Omdia told us via email on Wednesday.
Why has Intel thrived when everyone else, bar Broadcom, ate dirt? Diversification, reckon the experts. Omdia said Chipzilla's dedication to spreading itself out has helped it avoid the fate of contemporaries dragged down by plunging shipments of memory chips and other technologies.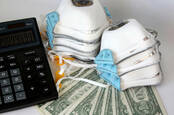 Supply, demand and a scary mountain of debt: The challenges facing IT as COVID-19 grips the global economy
READ MORE
With teams devoted to things like data center components, Internet-of-Things gear, AI accelerators, FPGAs, as well as the usual client microprocessors, Intel managed to turn a profit with four of its five major product groups, the odd one out being the NAND memory wing that made a loss. This, in turn, made Chipzilla the new semiconductor market leader, by total annual revenue, and, along with Broadcom, the lone winners in an otherwise grim landscape. Omdia declined to comment on Broadcom's secret to its success.
Chipzilla's own numbers [PDF] back these findings up. In the last reporting quarter (Q4 2019) Intel said datacenter chip volumes were up 12 per cent and selling prices climbed five per cent, while PC volumes and revenues were flat.
"Once regarded as PC-centric microprocessor supplier, Intel is now a diversified vendor of solutions ranging from logic chips, to software, to analytics," said Omdia senior semiconductor manufacturing analyst Ron Ellwanger. "Omdia believes that Intel's diversification strategy will continue to serve the company well—in good times and bad.
"Five years ago, Intel began to refocus its business strategy into various critical products and end markets. This strategy has paid off in 2019, allowing Intel to avoid dependence on a single product or application market and enabling the company to mitigate the effects of the massive market downturn of 2019."
Speaking of which, we note that, according to Omdia, for the overall market, AI-accelerating silicon dipped seven per cent in revenues, DRAM plunged 37.2 per cent, NAND fell 24.5 per cent, and wireless chipsets fell 13.3 per cent. And that's before the coronavirus pandemic hit the planet. ®
Similar topics