If the current coronavirus pandemic has got you wanting to leave Planet Earth, you're not alone. More than 12,000 people answered NASA's latest call for astronauts to explore the Moon and Mars.
Unfortunately, if you're still thinking about it, you're a little too late. Applications have just closed after being open for a month from March 2 to 31. NASA said it received applications from every US state, and four of the country's territories for its Artemis program, an ambitious and ongoing effort to send humans further out into the unexplored territory in space.
"We've entered a bold new era of space exploration with the Artemis program, and we are thrilled to see so many incredible Americans apply to join us," said Jim Bridenstine, NASA's Administrator, on Wednesday. "The next class of Artemis Generation astronauts will help us explore more of the Moon than ever before and lead us to the Red Planet."
The next big milestone for the program is the Artemis mission to send the first woman and next man to the Moon by 2024. NASA is working towards uncrewed flights of its much-delayed Space Launch System rocket and its Orion space capsule, built to house up to six space travelers, for testing. The goal of Artemis is to establish a Moon base for further exploration of Mars.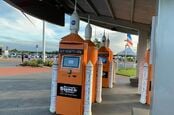 Boots on Moon? Well, the boot part is right: Audit of NASA's Space Launch System reveals more delays, cost overruns
READ MORE
Being an astronaut is incredibly competitive. The previous call drew in a record-breaking 18,300 applications, and only 11 managed to make it all the way to the graduation stage earlier this year.
The number of applications dropped to about 12,000 this time round, however, as NASA upped the education requirement for eligible candidates from a bachelor's degree to a master's degree in a science, technology, math, or engineering subject. The time window to apply was also slashed from two months to one. And, don't forget, you have to be a US citizen.
"We're able to build such a strong astronaut corps at NASA because we have such a strong pool of applicants to choose from," said Anne Roemer, manager of the Astronaut Selection Board and director of human resources at the Johnson Space Center. "It's always amazing to see the diversity of education, experience and skills that are represented in our applicants. We are excited to start reviewing astronaut applications to identify the next class of astronaut candidates."
Students selected for the new class of astronauts will be revealed next summer, and will be taught over the following two years how to conduct spacewalks and operate spacecraft systems safely. They'll also have to learn strict cultural rules as well as the Russian language in order to live and work on the International Space Station.
NASA has selected 350 lucky sods to train as astronauts since the 1960s when humans began exploring space. There are, right now, 48 active members qualified to be assigned to spaceflights at any given time. ®