This article is more than 1 year old
Biz software pusher IFS goes a bit Minority Report with augmented-reality repair suite
But it's still playing catch-up with big boys SAP and Oracle
ERP flinger IFS is inflicting more augmented reality on the unsuspecting world of repair and maintenance as it strives to catch up with Oracle and SAP.
IFS Remote Assistance is a collaborative, augmented-reality software system that blends two real-time video streams into interactive environments in Windows, iOS and Android phones or tablets, as well as smart-glass technologies.
It is designed to help someone maintaining equipment remotely with assitance from an office-based product expert, for example. The tool can be deployed as standalone tech to allow product experts to draw on the screen and talk remote workers through solving a problem.
But the application also allows organisations to draw product data from enterprise apps – such as ERP, factory service management or CRM systems – to offer more detail and context on the problem or component in hand. This means users can access technical information such as schematics, repair procedures, part specifications or service history.
Such data need to be "propagated" to the mobile application from a single, trusted information source such as an enterprise application or data warehouse via RESTful API frameworks, said Mark Brewer, veep for the service industry at IFS.
It can integrate with non-IFS systems in CRM for service history, warranty claims, "upsell opportunities" as well as product lifecycle management for configuration data, technical specs and CAD/CAM drawings, as well as ERP systems from rivals Oracle, SAP and Infor, Brewer said.
IFS Remote Assistance can also integrate with IoT data from sensors on assets that might show battery level, oil level, RPM, vibration, temperature, pressure and so on. "These can provide very expedient visual indicators which enable the field technician to quickly hone in on a resolution," Brewer said.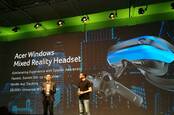 We experienced Windows Mixed Reality. Results: Well, mixed
READ MORE
The application supports a data store with analytics to assess first-time fix rates, frequency of assistance requests, knowledge gaps (highlighting training opportunities), technician call quality rating and so on.
It can also be used as a training tool to faster train up new employees, allowing experts to step in when needed.
A pre-release adopter, Czech air conditioning firm Munters, has offered its approval. Roel Rentmeesters, director of global customer service, said: "We see enormous potential in connecting our back-office product experts to field technicians and even directly to our customers. As we are currently launching a new production line in our manufacturing facility in Czech Republic, we are also looking into how we can provide expert support to the local team remotely using handheld devices and [mixed reality] headsets."
But IFS is not alone in providing field engineers such features. In 2016, SAP announced its SAP Digital Assistants – wearable technology and augmented reality (AR) products – provide integrated video and enterprise data. In the same year, Oracle offered AR as part of its mobile self-service apps.
With the two biggest players in the market stealing a march on IFS, the question is whether users will see the benefits of its system over those from rivals. ®