Intel's 10th-gen Core family cracks 5GHz barrier with H-series laptop processors
New line-up includes first i9 part in this latest generation
Intel has announced its tenth-generation Core i5, i7, and i9 H-series microprocessors for laptops, which max out at 5.3GHz.
Chipzilla pitched the chip family at "gamers and creators," and advances the usual reasons: games need a decent amount of CPU power as well as GPU, and artists need to render at 4K resolution without needing to pop out for a cup of tea while things process.
As these CPUs are mostly enthusiast-bait, the number Intel is most concerned with is top maximum single core turbo frequency: 5.3GHz for the high-end eight-core Core i9-10980HK; 5.1GHz for the eight-core i7-10875H and six-core i7-10850H; 5GHz for the six-core i7-10750H; and sub-5GHz for the four-core i5s. The K means the i9 is unlocked for overclocking.
The base frequencies range around 2.4 to 2.7GHz. Here's the shorter specs for the new range: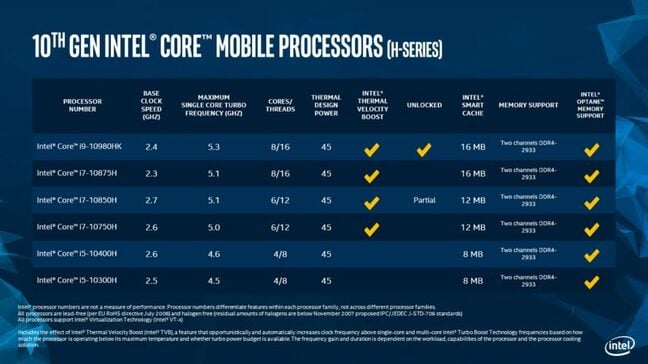 Intel's 10th gen Core-H range. Click to enlarge.
That Core i9-10980HK is also the first i9 in the tenth-generation, we note.
This set of 14nm parts uses Intel's Comet Lake architecture, and sports a TDP figure of 45W. They all pack a bog-standard Intel UHD 630 GPU – you'll want to pair these H-series processors with decent separate notebook GPUs – and Thunderbolt and Optane support.
These aren't from the 10nm Ice Lake family, so it's not terribly exciting. They are, cynically speaking, spoilers for AMD's upcoming 45W Ryzen 4000 series.
And yes, we know you're tired of hearing about coronavirus. But we keep hearing it can be hard to get your hands on a new laptop in these pandemic times. Intel usually makes sure its hardware partners have kit in warehouses on or around announcement day, so don't be surprised if some Core-H-powered machines become available soon. A few weeks with a 5GHz laptop doesn't sound all that bad. ®