This article is more than 1 year old
Come to GoDaddy: 12 million domains – from .biz to .nyc – acquired from Neustar amid promises of lower prices
Could takeover actually not shaft internet web address holders?
The world's largest seller of domain names, GoDaddy, is making a bid for market domination with the purchase of hundreds of registries, including .biz, .co, .nyc, and .us, from Neustar.
The deal, for an undisclosed amount, will cover 12 million domains and instantly make GoDaddy one of the largest players in the internet infrastructure industry. The Neustar registry team will be retained and its head will lead the new department, GoDaddy Registry.
Neustar runs the back-end for 215 top-level domains, a fifth of the global market. It also owns several registries, including .biz and its own brand .neustar.
The sale is likely to draw significant scrutiny from the industry and potentially anti-trust investigators, given GoDaddy's dominance of the market and long-standing rules requiring separation between registrars (domain sellers) and registries (top-level domain operators).
The purchase, which GoDaddy says it hopes to complete in the next two months, would give the biz enormous sway over the multi-billion-dollar market. For that reason, GoDaddy COO Andrew Low Ah Kee told The Register, the company is putting in place a strict separation between the registry and registrar sides of the business.
"They will be kept entirely independent with a separation of data," he said, adding that neither side will be allowed to show any preference for the other, and that GoDaddy will add a compliance function to ensure they continue to operate independently. The registry and registrar sides of the business will be assessed separately, although both departments will report directly to him.
Low Ah Kee pointed to GoDaddy's acquisition and operation of Afternic, which resells domain names, as an example of how the company can maintain separation between business units. GoDaddy bought the organzation in 2013 and maintained separation for years but in recent years has started combining systems.
Change-a-coming
Despite the ban on mixing registry and registrar business – a long-standing rule devised and overseen by ICANN to prevent market abuse – GoDaddy is almost certainly expecting the situation to change in the next few years.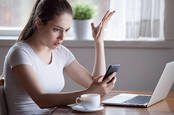 Two years ago, 123-Reg and NamesCo decided to register millions of .uk domains for customers without asking them. They just got the renewal reminders...
READ MORE
It will be ideally positioned to make the most of it when it does. Low Ah Kee noted there were now several businesses that are vertically integrated in the domain name market. GoDaddy confirmed it has not yet contacted ICANN over the sale.
There may also be concerns raised by the US government, which contracts out the .us registry, and New York City over the .nyc registry. When asked about the potential for anti-trust actions, Low Ah Kee noted only that the sale is subject to the usual regulatory approvals.
The purchase is likely to be good news for the average netizen however, Low Ah Kee claimed. "Our focus is always on the consumer, the everyday entrepreneur," he said, adding that by pulling in the registry business the company can "build a platform for further innovation."
That takeover is likely to include a move away from today's model of people purchasing a domain for a set number of years and towards "flexible terms" for domains, said Nicolai Bezsonoff, who is general manager of Neustar's registry business and will head up GoDaddy Registry.
Currently tens of millions of domains that are owned by people sit unused, or host an outdated website, or are up for sale but at a price that doesn't attract much attention.
A more flexible model of ownership such as renting a domain has been attempted several times but has never been embraced at an industry level. This deal could change that. It could also mean new market offerings for bundles of domains, Bezsonoff told us, plus any other changes that the department feels netizens may be interested in.
Prices
In stark contrast to other big domain registry news in recent months – the proposed sale of the .org registry from the Internet Society to an unknown private equity firm – where captive .org owners are worried that prices will be hiked up, Bezsonoff told The Register that he expects domain name prices to go down as a result of the deal. "We will not be raising prices," he said," in fact we will look at reducing prices."
While Neustar was one of the very earlier operators of internet registries, its bureaucracy and culture is not best placed to deal with an increasingly competitive market: the number of TLDs has more than tripled in the past five years.
GoDaddy, by contrast, prides itself on being flexible and moving quickly. Bezsonoff noted with respect to GoDaddy that "we have a very similar culture; it's a natural fit."
There are no plans for layoffs and all the Neustar registry team will remain in their own offices or be relocated to GoDaddy offices nearby across the globe, pandemic lockdowns allowing. GoDaddy Registry will retain its close ties to Neustar's security and domain name services, such as DDoS mitigation, said Bezsonoff, and GoDaddy will even run Neustar's own brand TLD, .neustar. ®