This article is more than 1 year old
Antarctic science put on ice by coronavirus – next summer's expeditions restricted to essentials and robots
Australia just wants to get supplies in and keep people moving safely
The novel coronavirus is yet to reach Antarctica's small human population, but will impact science on the frozen continent next southern summer.
While some Antarctic bases are accessible year-round, most receive the majority of their supplies and people by ship during the brief deep southern summer. Summer is also the time that the southern continent's population swells as researchers take advantage of less-than-utterly-inhospitable weather.
But coronavirus complications mean such visits are off the agenda for the summer of 20/21.
The director of the Australian Antarctic Division, Kim Ellis, yesterday said that next summer will only see essential work undertaken.
"We will focus solely on resupplying our stations and changing over teams. As a result, there will be no major construction activities and science projects will be limited to automated data collection," Mr Ellis said. "Projects requiring the deployment of dedicated expeditioners or logistics outside of essential activities will be re-evaluated in the future."
Even conducting regular operations and finding winter crew will be tough. Ellis said that the pandemic has made it harder to recruit and train staff for next season, while supply chains are stretched and costs are rising.
The Register has checked other polar program's pronouncements and while they're doubling down on the already strict biosecurity measures used before shipping people or goods to the frozen continent, they're yet to cancel new science for next summer. ®
Bootnote: Australia's Antarctic stations have "tonnes" of toilet paper, building services supervisor Glen Pretious wrote last week , and posted the picture below to prove it!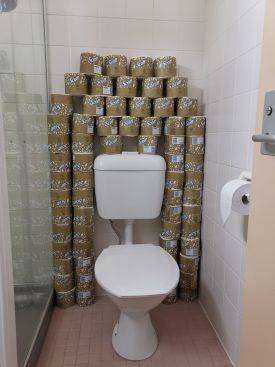 Click to enlarge