This article is more than 1 year old
Honor 9X Pro: Better specs can't save this smartphone from a barren app store
But hey, maybe a Google-free experience is a selling point for you
Hands On Smartphone manufacturers love to use the word "pro" in their branding. Perhaps at one point it meant something, conveying a level of power you wouldn't get with cheaper kit. That isn't the case in 2020, with the term awkwardly slapped on sub-£250 devices, like the subject of this review: the Honor 9X Pro.
The Honor 9X Pro is, essentially, an upgraded version of the Honor 9X, which we reviewed in October 2019. A fine phone, to be sure, but nothing particularly earth-shattering.
The biggest change on the specs sheet lurks underneath the hood, with the inclusion of an 7nm-process HiSilicon Kirin 810 platform, which uses two Cortex A76 cores clocked at 2.27GHz, as well as six Cortex-A55 cores clocked at 1.88GHz. In addition to the newer Mali-G52 GPU, the Kirin 810 also includes Huawei's Da Vinci NPU. This has since gone on to appear on other top-tier platforms from HiSilicon, including the Kirin 990 5G and Kirin 990.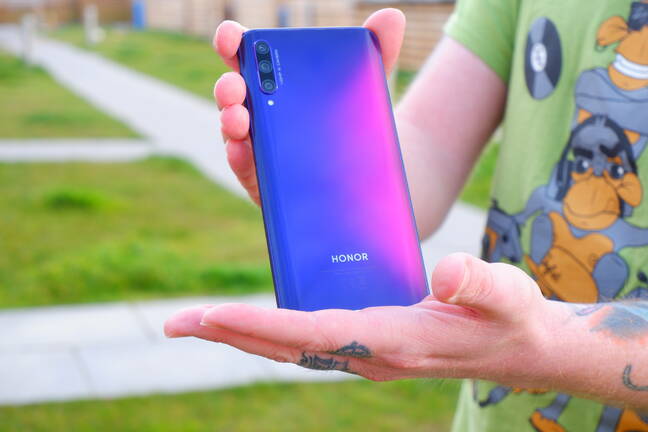 In short, CPU, GPU, AI and battery performance should all feel measurably improved over the previous effort – which was no slouch, in fairness.
Accompanying the Kirin 810 is 6GB of RAM – which feels like a wasted opportunity, given the Kirin 810 can support up to 8GB. That's 2GB more than the maximum limit on the Kirin 710, which featured on the last effort.
Such a boost would undoubtedly help distinguish the Honor 9X Pro from the garden-variety version, which ships with the same amount. It would also give the phone a welcome boost when it comes to multitasking, allowing users to effortlessly flit between apps without the fear of everything crashing down.
In terms of storage, punters get a generous 256GB to play with. There's also a microSD slot, which supports up to 512GB. That's plenty of room for your movies, music and apps.
Actually, forget what I said about apps. Unlike its predecessor, the Honor 9X Pro ships without Google Mobile Services (GMS), and thus the Google Play Store. In fact, this is the first Honor phone to come without the mainstream Android app store.
Instead, there's the Huawei AppGallery to play with, which has made strides in recent months, bringing on the likes of Amazon, SnapChat and Microsoft. However, it's still far from being a slot-in replacement for Google Play. Not only does it lack the usual social distractions (like Messenger, Facebook and WhatsApp), but it's also void of many banking and transportation apps.
At least the battery is good. With a 4,000mAh cell, I was able to eke out a full day's worth of usage without having to flee to my wall charger. Charging comes via a USB-C slot, which sadly is limited to 10W.
At least it wins points on design. Unlike the Honor 9X, the Pro version ditches the plastic back for glass – and therefore feels way more premium. It also retains the pop-up 16MP selfie camera, which gives the device a 92 per cent screen-to-body ratio. There's also a physical fingerprint sensor mounted on the side, which is both fast and easy to grip.
Purists will welcome the presence of a 3.5mm headphone jack on the bottom of the phone. Unfortunately, the built-in speakers aren't as lush as the overall design, sounding tinny and located in a place that's easily muffled.
On the camera front, the Honor 9X Pro ships with three sensors: a 48MP main camera, which uses pixel binning to produce 12MP images; an 8MP super-wide-angle camera; and a 2MP depth camera for those bokeh-filled portrait shots.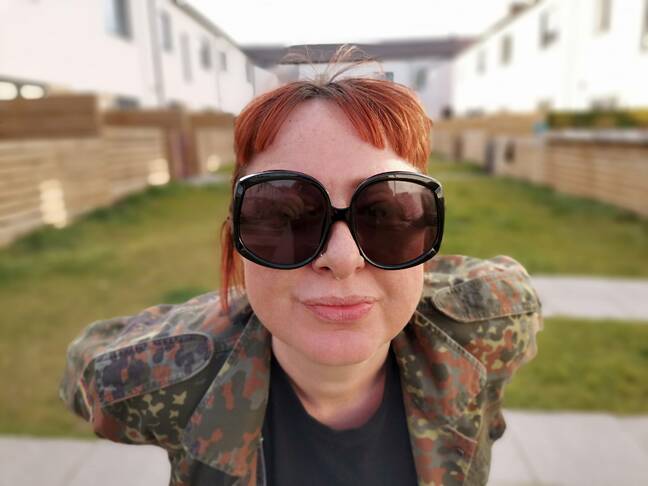 Given the price point, I didn't expect much, and was therefore suitably impressed. With excellent definition and colour fidelity, the camera is easily the Honor 9X Pro's crowning glory.
But does that mean you should buy it? It's not a bad phone, but it's also a victim of awful timing. For many, the absence of the Google Play store is somewhat of a deal-breaker, particularly when the older (and, at this point, cheaper) model comes with it pre-installed.
The Honor 9X Pro also faces competition from other ascendant Chinese mobile manufacturers, like Realme and Xiaomi. It's hard to imagine a situation where I'd recommend the Huawei experience over, say, the Realme 5 Pro.
Though if you're not particularly fussed about having access to your apps, or have the technical nous to find them elsewhere, the Honor 9X Pro might be for you. It's got a decent camera and some genuinely lovely industrial design. Although I fear that may be too small of a demographic to make this phone a winner. ®