The fashion industry has carved itself a new niche – outfits and accessories for video chats – but kept all its old double standards about what different people need to look their best.
As spotted by CNN journo Sonia Moghe, Gap's posh workwear brand Banana Republic shows off the spring trend with a new "What to wear at home" category on its US website.
The Register thought that was worth a look and quickly found the retailer offers sub-categories and the first one for men is called "Cozy & comfortable" and features lots of lovely soft, floppy and fuzzy garments.
But the first sub-category for women is called "Video Chat Ready" and features crisp and nicely-tailored business casual outfits (some in dense patterns that just don't work on camera).
Next up for women: "Video Chat Accessories" such as bandanas, hair clips and bracelets. Women do get a "Cozy & comfortable" sub-category, but as a third-order priority.
Men also get a "Video Chat Ready" look book – and it suggests boxer shorts and socks as appropriate apparel.
No prizes for guessing that underwear was not suggested as video conference apparel for women.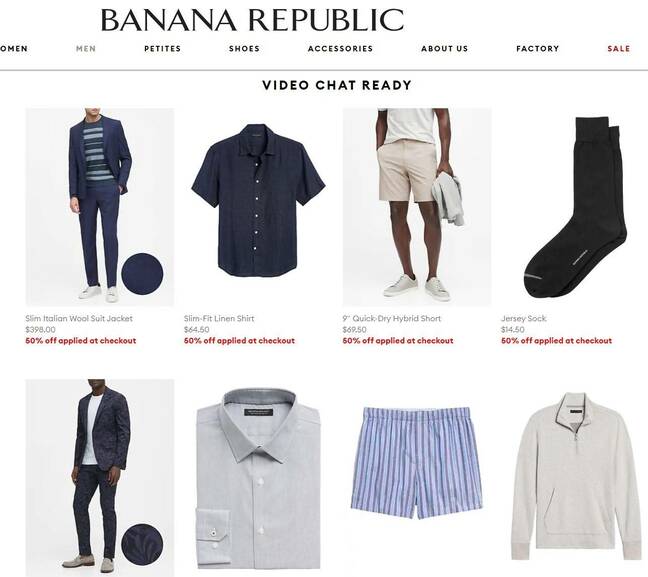 Click to enlarge
Other fashion retailers are also – pardon the pun – cottoning on to this. One response to Moghe's tweet pointed out that the world's largest fashion retailer Zara has a new passion for loungewear, the sub-genre of clothing built just for slobbing around the house.
Please note the 'new' loungewear section 🤣@ZARA fyi I love @Zara but this made me laugh pic.twitter.com/KkyzRw9bYo

— Siobhán Murray (@Twistingthejar) April 6, 2020
Loungewear was also the highlighted category on the women's clothing page of UK retailer Marks & Spencer's at the time of writing. M&S men are told to buy a pair of polo shirts at reasonable prices. H&M's home page is replete with references to being cozy at home.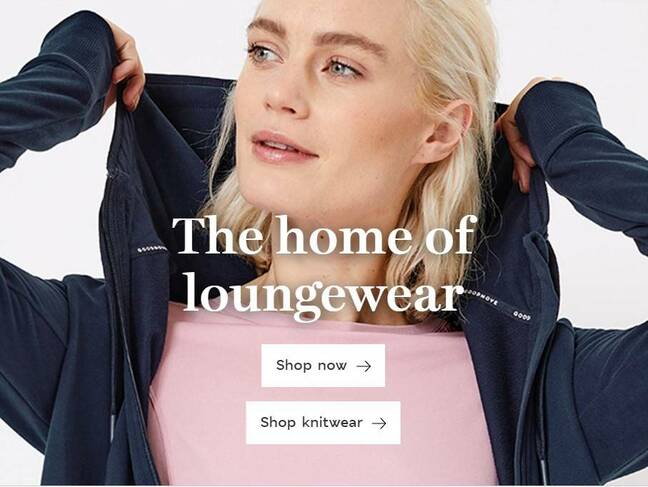 Click to enlarge
Now lest you think us unfair critics, we present some shots of Register staff in their working from home outfits.
Your humble hack thought it might be fun to showcase vendor socks that he was never game to wear into the real world, while possibly leaking some subconscious thoughts about where he'd rather be.
Working my way through a pile of vendor socks I've never worn before. Today thanks @vmware for the #beachops hosiery promoting @WavefrontHQ (with glimpses from the temporary Vulture East aka the shed that is my home office. Also corduroy!) pic.twitter.com/7vy568pA4p

— Simon Sharwood (@ssharwood) March 25, 2020
US news editor Iain Thomson has done rather better, making sure his colleagues at daily virtual news meetings have a new costume to consider.
Decided on something a little different for today's @TheRegister news meeting. Got to keep people on their toes, and keep them smiling.

HT to @urban75 for the tshirt that keeps on giving. pic.twitter.com/M2YvFHSZZy

— Iain Thomson (@iainthomson) March 19, 2020
If you've adopted what has come to be known as "Zoom Chic" and are willing to share a shot that could appear in The Register, drop me a line. ®