This article is more than 1 year old
WeWork sues SoftBank over 'AWOL' $3bn shares purchase – which included millions lined up for ousted CEO Neumann
Japanese giant defends decision, says trendy office rental biz didn't meet its terms
WeWork sued SoftBank on Tuesday after the Tokyo-based holding company nixed its plan to purchase $3bn in shares of the struggling office-leasing biz from existing shareholders.
The lawsuit [PDF], filed in Delaware's Court of the Chancellery, alleges SoftBank breached its fiduciary duty by terminating its share purchase plan, put in place after WeWork's initial public offering fell apart last October. As it walks away from that purchase plan, Softbank doesn't have to carry out the $1.1bn debt financing it promised for WeWork, either.
The US court filing says WeWork's Special Committee of the Board of Directors viewed the tender offer as critical "because it provided much-needed liquidity," for the company's minority shareholders – employee shareholders past and present, external investors, and ousted CEO Adam Neumann, who was expected to make hundreds of millions from the now-collapsed agreement.
"Instead of abiding by its contractual obligations, SoftBank, under increasing pressure from activist investors, has engaged in a purposeful campaign to avoid completion of the tender offer," the Special Committee said in a statement.
The deal to buy WeWork shares was formulated when the struggling rental biz withdrew its IPO in September. A revised deal with Softbank included a series of transactions including debt financing, accelerated funding, and the purchase of shares. It was supposed to close April 1, 2020, but the financial situation of both companies deteriorated as the date approached.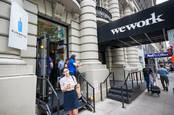 WeWork filed its IPO homework. So we had a look at its small print and... yowser. What has El Reg got itself into?
READ MORE
WeWork has been burning through cash. In November, the company said it had lost $2.2bn in the first nine months of 2019. That same month, SoftBank recorded a $4.7bn loss due to its WeWork investment.
The coronavirus pandemic this year has only increased the financial pressure on the office rental biz. On March 27, 2020, according to the complaint, WeWork informed SoftBank that it "was undertaking efforts to renegotiate certain lease agreements," due to the financial impact of the outbreak.
SoftBank, the lawsuit alleges, cited the lease agreement renegotiation and other supposedly unsatisfied preconditions to get out of its financing commitment. WeWork wants the court to require SoftBank to complete the abandoned deal or to pay a penalty.
SoftBank maintains that its decision was justified due to the ongoing pandemic, investigations into WeWork, and trouble with its joint venture in China. WeWork's filing, a company spokesperson added in an email to The Register, "is a desperate and misguided attempt now to rewrite that agreement and to rewrite the history of the past six months."
WeWork's effort to force SoftBank to purchase its shares won't work, SoftBank's spokesperson insisted.
"Nothing in the Special Committee's filing today credibly refutes SoftBank's decision to terminate the tender offer," SoftBank's spokesperson said. "Several of the conditions the Special Committee, WeWork, Adam Neumann, SoftBank and SoftBank Vision Fund agreed to last October as requirements for completing the tender were not met as of April 1, 2020."
SoftBank and its Vision Fund have invested more than $14.25bn in WeWork to date, including $5.4bn since October 2019.
"SoftBank remains fully committed to the success of WeWork, and to the five-year business and strategic plan to secure its profitable future," the spokesperson said, while also declaring the company intends to "vigorously defend this suit." ®