This article is more than 1 year old
Microsoft attempts to up its Teams game with new features while locked-down folk flock to rival Zoom... warts and all
Changes may help, but big user requests are still missing
Microsoft is rolling out improvements to its Teams collaboration software, while no doubt eyeing the success of Zoom in capturing millions of new video-conferencing users as much of the world endures lockdown.
Five new features are coming to users shortly. The first is "background effects", the ability to customise your background from a selection of Microsoft-provided images. There is no reference in the announcement to using your own background images though one user reckons they have worked it out by putting a custom image in a special uploads folder hidden in AppData.
Next up is the ability to call consumer Skype users from Teams and vice versa. This is off by default but can be enabled in a Teams organisation. It appears, though, that this is text and voice only, not video. If that seems messy, there are hints here that the company has plans for Teams to take the place of Skype even in the consumer world.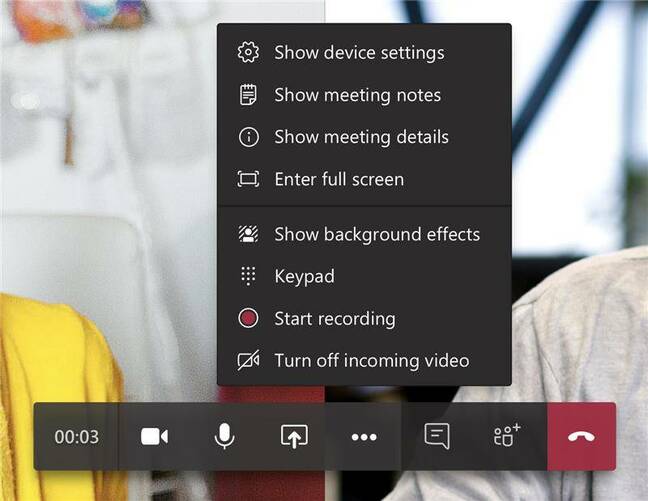 Changing the background in Teams is a new menu option, 'Show background effects'
Microsoft describes "new features coming to Microsoft Teams for your personal life" and how a single app would let you not only make personal video calls but also "share grocery lists, organize across family calendars, store important information like Wi-Fi passwords and account info, and even see location updates when loved ones arrive home". This may be reserved for users with a Microsoft 365 personal subscription, though, leaving Skype as the service for general use and continuing to cause confusion.
Third, the "Meet now" buttons in a Teams channel are moving to the top right of the screen. Big deal, you may think, but Microsoft calls this a "new experience for launching instant channel meetings". Fourth, there is a new landing page for users joining a Teams meeting from a link, which will offer a choice between continuing in the browser, opening the Teams app, or downloading the Teams app. Fifth, multi-window chat will mean you can have chat conversations in separate windows. Lastly, there is an increase in the limit on team membership from 5,000 to 10,000 users.
More stuff is also meant to be coming later in April, including checklists and polls, control over the announcement sound when a dial-in user joins or leaves a meeting, and the ability to share email from Outlook to a Teams channel or chat, and to share a Teams conversation by email.

Top Teams ask on Uservoice is better support for multiple videos
While these may be handy little improvements, users have more pressing issues. The top ask right now is to show video for more than four people in a meeting. If you are meeting online, it helps to see how people are reacting to what you are discussing, not just to see the face of the current speaker. Microsoft said it is working on it and told users to "stay tuned for updates."
Next up is the common requirement to log into multiple accounts, trivial with Slack. In Microsoft's world there are two separate aspects to this. One is where you have signed in with a specific Azure AD identity that has been given guest access to Teams in other organisations, while the other is where you have more than one Azure AD identity that you want to use. The first case is already partially handled in the Windows client, with "fast tenant switching". The other is currently not supported on the desktop but does work in the iOS and Android mobile apps. Teams also still lacks a sane way to integrate with a shared calendar.
Teams has become a critical part of Office 365 in a relatively short time (it was announced in November 2016.) Under the covers it combines features from several different products, including SharePoint, Exchange, Azure AD and Skype for Business. It is also an app platform, with support for custom apps as well as a built-in marketplace which is now extensive (including apps from competitors like Zoom.) This ability to provide a portal into multiple aspects of Office 365 is a key strength, but also a weakness in that it adds complexity versus alternatives that are dedicated to a single purpose.
Zoom conferencing is one such alternative. It is a single product for both business and consumers, and focuses on ease of use above all else – including at times security and engineering best practice. On the Mac, Zoom until recently used a misleading "System" dialog to get root privileges – behaviour normally characteristic of malware. Zoom security issues include lack of end-to-end encryption, and default to passwordless meetings that others can invade (now fixed). That has not stopped Zoom usage exploding, with a reported increase from 10 million daily uses in December 2019, to over 200 million today, caused by the lockdown. But it ticks boxes for easy install, key features like screen sharing, one-click meeting recording, and simple file sharing between participants.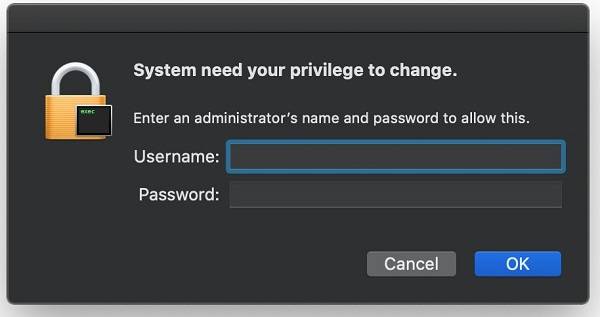 Zoom's shady 'System' dialog used until recently on the Mac installer
Microsoft, by contrast, has a number of security and compliance features built into Teams and is bragging about them. The fact that it is composed of longstanding enterprise applications like SharePoint and Azure AD works in its favour in this respect. You can enforce two-factor authentication, set conditional access policies, and apply retention policies to channels, chats and attachments. Teams data is encrypted in transit and at rest. There are mitigations for common threats. Earlier this month, New York City's Department of Education disallowed use of Zoom for its 1.1 million students and teachers, citing "the safety and security of our staff and students" and suggesting Teams or Google Meet as alternatives.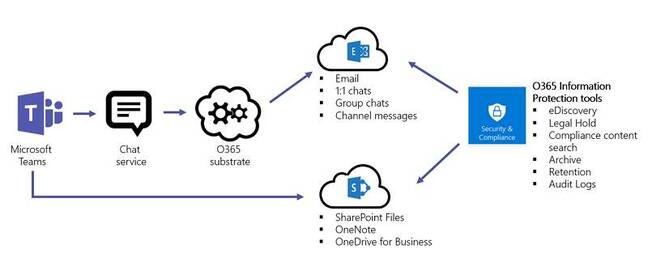 Compliance diagram for Teams chats
Google is also talking up the security of its Google Meet service, no doubt hoping to benefit from the agitation around Zoom. In a recent post, director of product Karthik Lakshminarayanan states that "all data is encrypted in transit by default between the client and Google for video meetings on a web browser, on the Android and iOS apps, and in meeting rooms with Google meeting room hardware." In addition, it is strengthening security for education users, by giving meeting creators and calendar owners exclusive permission to mute or remove participants, and to approve joining requests. "This ensures that instructors can't be removed or muted by student participants," says Lakshminarayanan, which sounds like a good plan.
Zoom security concerns have not deterred prominent users and it may be easier for the outfit to improve its security than for Microsoft to match Zoom's usability. Microsoft has made a solid effort to improve Skype through the introduction of instant conferencing with no sign-up, but that will not help Teams users.
Microsoft has been working for years on real-time communications with Skype, already a household name when acquired in 2011, and the Lync/Skype for Business product, which was launched in 2010. It has spent too much time rearranging the icons on Skype and confusing customers about the difference between Skype, Skype for Business and Teams, and too little on creating a unified, solid and easy-to-use conferencing and collaboration platform.

Zoom is top, but in sixth place Teams is still huge
Teams is nevertheless an asset for the company, and has strained but not broken in the recent surge of usage. Video conferencing is only one part of its feature set. But the pressure is on to speed up the pace of satisfying long-standing user requirements and to resolve the puzzle of integrating its consumer and business technologies where appropriate, as it has done with OneDrive with considerable success. ®