This article is more than 1 year old
Self-driving car LIDAR stalwart Velodyne sued for sacking a third of its staff claiming coronavirus was the cause
Employees allege offshoring was reason behind next-day sacking of 140 staff
A key maker of Light Detection and Ranging (LIDAR) sensors for self-driving cars unlawfully terminated more than 140 of its employees to shift jobs offshore, a lawsuit claims.
Velodyne Lidar fired more than 33 per cent of its staff working at its headquarters based in San Jose, USA, we're told. The layoffs came as a shock to more than 140 of its employees, who were only given one day's notice, it is claimed.
The company blamed the layoffs on the coronavirus outburst, but its employees argued the advanced-tech biz is using the pandemic as an excuse to conveniently slash its US workforce so that it can shift more of its operations overseas to cut costs.
"While Velodyne's written notice told employees that the layoffs were caused by the recent COVID-19 pandemic, that representation is not consistent with Velodyne's recent business activities," the lawsuit [PDF], filed in California, stated.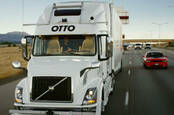 Former Googler Anthony Levandowski 'fesses up to pinching trade secrets about self-driving cars
READ MORE
"Velodyne had already begun transferring production jobs overseas beginning in the summer of 2019 and had planned to continue doing so prior to the outbreak of COVID-19. Velodyne's written notice failed to provide employees with a reason for why it was giving them just one day's notice, when a layoff was reasonably foreseeable before that time."
Benjamin Siers, a production engineer at Velodyne, filed the class-action lawsuit this month on behalf of himself and his fellow colleagues who were let go.
Siers reckons Velodyne's mass layoff is unlawful as it violates the California Worker Adjustment and Retraining Notification (WARN) Act, which states workers must be given 60 days' written notice if 50 to 499 employees are terminated or if the total number is equivalent to at least 33 per cent of its full-time staff.
Now, he is asking Velodyne to cough up cash to pay their unpaid wages, as well as any commissions, bonuses, accrued holiday pays, 401K contributions, and other benefits that would have been paid under the WARN act.
Velodyne, founded in 1983 by David Hall, was at first focused on building subwoofers. As interest in autonomous vehicles snowballed, a separate company known as Velodyne Lidar was set up in 2016. It supplies companies testing self-driving cars with an imaging system that uses spinning lasers to build a 3D map of the vehicle's surroundings.
The firm's main R&D facilities are based in San Jose and Alameda, California. It also has sales offices in the US Midwest and the East Coast, as well as in Asia and Europe.
Velodyne Lidar was not immediately available for comment. ®