Twitter takes away twits' ability to limit ad data sharing – after telling investors its own privacy settings hurt revenue
Except you in Europe and UK, you still get to control over analytics fuel
---
On Wednesday, Twitter users, except those in Europe and the UK, lost the ability to prevent the micro-blogging biz from sharing mobile ad measurement data with its analytics and advertising partners.
At the same time, tweeters have gained the ability to deny Facebook and Google access to device-level data, such as IP addresses and mobile device advertising identifiers... after they already have it.
"We're updating a data sharing setting that relates to sharing additional information with business partners, specifically to measure the effectiveness of mobile app ads on Twitter," a spokesperson said in an email to The Register. "This is part of our ongoing work around transparency and control."
The social network notified users of the change without giving them any control over the decision, however, painting it as crucial for the continued existence of the service.
"The control you have over what information Twitter shares with its business partners has changed," a pop-up notification explained.
"Specifically, your ability to control mobile app advertising measurements has been removed, but you can control whether to share some non-public data to improve Twitter's marketing activities on other sites and apps. These changes, which help Twitter to continue operating as a free service, are reflected now in your settings."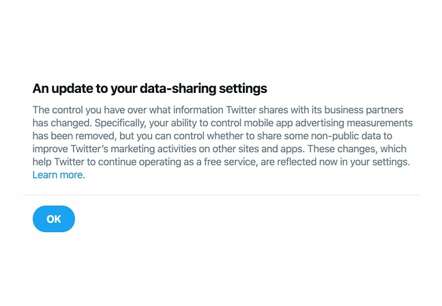 Twitter notification about data-sharing
Twitter's most recent 10-K financial filing [PDF] warns that app settings limiting advertising data may affect the company's financial performance:
"Our advertisers' ability to effectively target their advertising to our audience's interests may be impacted by the degree to which people on Twitter agree in our settings to certain types of personalization or ad targeting, which could have an impact on our revenue."
Prior to the update, which may not have propagated to all users yet, Twitter's settings – accessible at twitter.com/settings/account/personalization via desktop or mobile web client and through the Private and Safety menu item via mobile app – included a Data section with a checkbox labelled "Share your data with Twitter's business partners."
That's in the process of being re-labelled to read, "Allow additional information sharing with business partners." The checkbox's revised explanatory text states, "Twitter always shares information with business partners as a way to run and improve its products."
The blurb previously said, "This setting lets Twitter share non-public data, such as content you've seen and your interests, with certain business partners for uses like ads and brand marketing."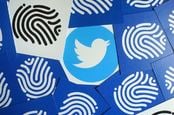 If you use Twitter with Firefox in a shared computer account, you may have slightly spilled some private dAata on that PC
READ MORE
In short, ad measurement data now goes out whether you like it or not, except for those protected by stronger privacy laws in Europe, the European Free Trade Association (Iceland, Liechtenstein, Norway, and Switzerland), and the UK – for the moment possibly in Blighty's case.
The "Allow…" setting governs the sharing of non-public data, such as whether the user downloaded the Twitter app because of an ad seen on Facebook or Google, with those two companies. This data "can include IP address and mobile device advertising identifiers for devices that open or log in to Twitter's mobile apps; but does not include your name, email, phone number, or Twitter username," Twitter explains on its website.
Mind you, Twitter may have already provided this info to Facebook and Google before users had any say about it.
"Twitter may share this information with these partners before you've signed up for Twitter (e.g. when you first open the app before creating an account) as disclosed prior to download in the Twitter app description in the App Store and Google Play, but does not offer you control over this data sharing until after you've created a Twitter account," the company says on its website.
After you've created a Twitter account, disabling the new "Allow…" setting means Twitter "will not thereafter share with these partners…"
How Facebook and Google handle data received before that point depends on their respective privacy policies. Good luck. ®
Similar topics
Narrower topics