Microsoft emitted a fresh version of Windows 10 last night, featuring fun for Linux fans, as mutterings intensified over hardware delays.
The Windows Insider faithful have had to wait a little while for the Fast Ring's build 19603 while the Windows team dealt with a blocking bug. However, for Linux developers running on Windows, those extra days have been worthwhile as the new build finally includes better Explorer integration with the Windows Subsystem for Linux.
It's been possible for WSL users to see the content of a running distro since Windows 10 19H1 / 1903 / May 2019 Update by running explorer.exe from the Linux command line. At the time Craig Loewen, a Program Manager on the Windows Developer Platform, promised that improvements to the whole experience were "coming soon", and here we are.
Poking the familiar penguin icon in new build's File Explorer will show a list of distros installed under WSL. Clicking one will reveal the files and directory structure within for you to access – hey presto, Linux files in the Windows File Explorer. Be wary, though – rapidly switching between distros might throw an error.

How to access WSL distro files from File Explorer ... Click to enlarge
WSL-friendly File Explorer integration aside, the Fast Ring remains free of a tremendous amount of visible innovation, unless some additional file cleanup options in Storage Settings or support for Canon's latest CR3 raw format float your boat (although GoPro's raw camera format remains off the menu for the time being).
The team has also included a raft of more minor fixes, including a resolution to the issue where WIN+PrtScn failed to save a file. Video calling (with certain webcams) in Teams should now work and the longstanding anti-cheat software issue has also been removed.
Issues including the update process seeming to hang, mysteriously empty battery indicators and defaulting IIS configuration settings persist.
A delay for Neo and a retooling for 10X?
The emission of another so-so Windows 10 Fast Ring build came as rumours circulated concerning the chances of Microsoft's much-vaunted foldable Surface devices and container-happy Windows 10X emerging in 2020.
We took a look at the latest release of the wunder OS back in March and found it promising, but with a lot of rough edges. We also reckoned that the company had a challenge on its hands if it was to be ready this year.
Microsoft, if the likes of veteran Windows watcher Mary Jo Foley are to be believed, has agreed. Windows 10X devices, including the dual-screen Surface Neo, are unlikely to hit the shelves in 2020 and the OS itself is now targeting single screen devices first.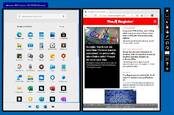 We checked in with the new Windows 10X build, and let's just say getting this ready for late 2020 will be a challenge
READ MORE
CEO Satya Nadella claimed supply chains were "all coming back" at the end of March, giving fans hope that they might yet see a folding fondleslab with Surface branding, running Windows. This now looks highly unlikely.
While the Neo joins the Surface Earbuds in the ranks of delayed hardware, the dual-screen, Android-based Surface Duo still remains on track. Indeed, both Surface supremo Panos Panay and Microsoft 365 corporate vice president Brad Anderson shared shots taken with or of the device in action.
Anderson's interns were snapped colouring Peppa Pig on Microsoft's great telephonic hope. Sadly, we suspect the eponymous porker will be sprouting wings and taking to the skies before the company ships a dual screen 10X device the way things are going.
At time of writing, Microsoft had not commented on the rumours. ®