Updated IBM's practice of promising its sales reps commission rates it can lower at any time, particularly after a sale is finally inked, may soon face a jury.
In November 2018, Jerome Beard, an IBM sales executive since 2002, sued his employer, claiming violations of California's labor laws, racial discrimination, and fraud, because Big Blue paid him a fraction of what he alleges he was owed for helping close a $100m deal with HCL America in the second half of 2017.
Beard's Incentive Plan Letter (IPL) from his bosses spells out the percentage of sales revenue due to him as a commission payment. His portion of the revenue, it's claimed, was about $12.6m, for which he was to receive about $1.4m. Instead, IBM decided the applicable commissionable revenue was only $2m, for which Beard was to receive about $230,000, roughly 15 per cent of the expected amount.
In a federal court in San Francisco on Thursday, United States District Judge William Alsup mostly denied IBM's motion to toss the discrimination and fraud lawsuit, putting the case on the path to a trial unless Big Blue chooses to settle.
IBM appears to be able to adjust awards to salespeople at its discretion because it doesn't have a solid contract with them. Its Incentive Plan Letter, used for such contracts, contain a disclaimer stating that the letters are not commission contracts in a very real and legally binding sense.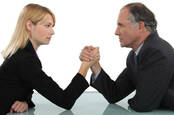 As many as 100,000 IBM staff axed in recent years as Big Blue battles to reinvent itself from IT's 'old fuddy duddy'
READ MORE
The IT giant does not always revise commission payments, it is claimed. Two of Beard's colleagues who worked on similar deals got paid in full. Both were white; Beard is African American. That said, Beard's complaint contends the practice is common enough that IBM has saved itself a substantial amount of money by capping sales commissions. The lawsuit claims that from 2013 to 2015, IBM secretly underpaid its sales representatives more than $40,000,000 nationwide.
When salespeople have tried to challenge this arrangement in court, their cases usually get thrown out because there's no official legal contract in place.
This has been going on for more than 15 years, according to a separate complaint in a similar case, Mark Comin v IBM. Yet, paperwork submitted in the Comin case stated IBM's insistence that it has no contract with its sales people has put the company into "a Catch-22 of its own making."
Section 2751 of the California Labor Code, enacted in 2013, requires employers provide a written contract that spells out commission payments. The recent Comin filing [PDF] stated: "[I]f IBM has no commissions contract, as IBM has convinced so many courts, then it has perfected its own violation of Section 2751 in California."
IBM has tried to get around this by insisting its non-contract is a contract for the purpose of satisfying California law, but isn't a contract such that it makes its commission terms enforceable.
"IBM is trying to walk this very fine line that with regard to Section 2751, it has a contract, but no contract for any other purpose," explained Matthew E. Lee, a partner at Whitfield Bryson & Mason LLP and one of the attorneys representing Beard and Comin, in a phone interview with The Register. "I don't understand that and, in my experience, judges don't either. They either have a contract or don't have a contract."
Indeed, Judge Alsup in his order [PDF] this week accepted IBM position that the tech titan's disclaimer means its IPL isn't a contract and accordingly rejected IBM's effort to claim the IPL is a contract just for the purpose of satisfying California law. "Since Section 2751 requires a 'contract' to satisfy its requirements, the IPL cannot do," his order in the Beard case stated.
Lee said a jury will now have the opportunity to decide whether what IBM has been doing is lawful, though he allowed that IBM may decide to settle. Only about four per cent of federal cases end up going to trial, he said.
IBM did not respond to a request for comment. ®
Updated to add
After this story was filed, an IBM spokesperson responded: "IBM's commission decisions are based on merit. Beard was the highest-paid sales representative on both of the deals at issue. IBM will continue to fight these baseless claims in court."