This article is more than 1 year old
As Amazon's stock price soars and Bezos adds to his billions, affiliates face massive cuts in their commissions
Times are hard...for you at least
On Tuesday, Amazon told members of its affiliate marketing program that it will reduce the commissions it pays them to promote products on their websites.
The Amazon Affiliates Program provides a way for third-party web publishers to post links on their websites that take buyers to Amazon.com to complete the sale, in exchange for a referral commission.
Amazon notified its affiliates of the new rate schedule via email. The reduced rates, effective April 21, 2020, differ depending on the product category. Furniture and home improvement product commissions, for example, will drop from 8 per cent to 3 per cent. Beauty product commissions will be reduced from 6 per cent to 3 per cent. Grocery product commissions are dropping from 5 per cent to 1 per cent.
That same day, Amazon stock - up 24 per cent this year - reached an all-time high thanks in part to the surge in online shopping from home-bound consumers. The company's market capitalization is now about $1.15tr and CEO Jeff Bezos's net worth has reached $138.5bn.
The rate cut may spur interest in Walmart's Affiliate Program, where commissions range from 4 per cent to 1 per cent, except for a few outlier categories. Target's Affiliate Program also compares favorably to the rates Amazon is offering.
The fee reduction comes at a particularly bad time given the coronavirus pandemic's effect on the US economy. Between March 7 and March 28, unemployment claims surged from 211,000 in the week ending March 7 to 6.6 million in the week ending March 28, according to the US Department of Labor.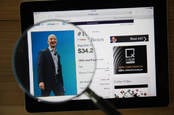 I've got way too much cash, thinks Jeff Bezos. Hmmm, pay more tax? Pay staff more? Nah, let's just go into space
READ MORE
Predictably, people participating in the Amazon Affiliate Program have complained on various internet forums. "I run a website about musical instruments," wrote one individual on Reddit. "This is going to cut my earnings in half."
In another online forum, a participant speculated that the rate reduction indicates Amazon has so much traffic now that it doesn't need to pay people to drive customers to its website.
Yet where Amazon has tightened the affiliate tap, it has also let cash flow elsewhere in an effort to mitigate the financial impact of the global health pandemic on its workers. Amazon last month launched a $25m relief fund for employees and contractors with COVID-19 – that's 15 per cent of the $165m Bezos reportedly paid for a house in February.
The cloud gift-and-grocery store is also adding 75,000 jobs while hiking wages for some employees, so long as they're not so outspoken they get fired.
Corporate concern for the less fortunate looks to be contagious, or at least good public relations. The two online ad giants, Google and Facebook, have launched funding initiatives and grant programs for publishers.
Cisco on Tuesday announced a $2.5 billion financial relief program for customers and partners. HPE rolled out a similar initiative last week.
The Register asked Amazon to explain why it plans to pay affiliates less but the company declined to comment. ®