You have to give Apple credit for timing. It just announced the iPhone SE 2020. Priced at £419, it's the company's cheapest phone in years and lands at a time when nobody has any money, thanks to everyone's least favourite pathogen: Coronavirus.
And honestly? The iPhone SE 2020 - first rumoured in 2017 - was so heavily leaked in the weeks proceeding its launch, you'd have to assume Apple hired Edward Snowden and Julian Assange to guard the prototypes. And that the pair were drunk.
With this effort, Apple is clinging to the same playbook as the original iPhone SE, packing the innards with its latest tech, while using the chassis of an older phone. In this case, it uses the company's newest A13 Bionic chip, while adopting the skin of the iPhone 8 — which admittedly looks a bit dated in 2020, thanks to its small 4.7-inch display and chunky bezels.
Still, it's not all bad news. At least there's TouchID, as well as compatibility with older iPhone accessories. Apple also wins points for including Qi wireless charging, which isn't always a given on phones in its price point. The budget blower is also rated IP76, therefore providing solid water- and dust-proofing.
On the optics front, there's a solitary 12MP wide-angle camera. It's not uncommon to see triple, if not quad, camera configurations on phones in its price point, so this is a touch unusual, although Apple reckons it'll still be able to perform, thanks to some computational legwork by the A13 processor. There's the promise of bokeh-filled portrait shots, as well as a Smart HDR mode. Punters can also shoot 4K at 60MP.
The iPhone SE 2020 comes with three storage configurations: 64GB, 128GB, and 256GB. There are also three colour options: black, white, and (Product) Red. For those who buy the latter option, Apple will make a donation to Global Fund's COVID-19 Response appeal, providing PPE and diagnostics kit to health workers.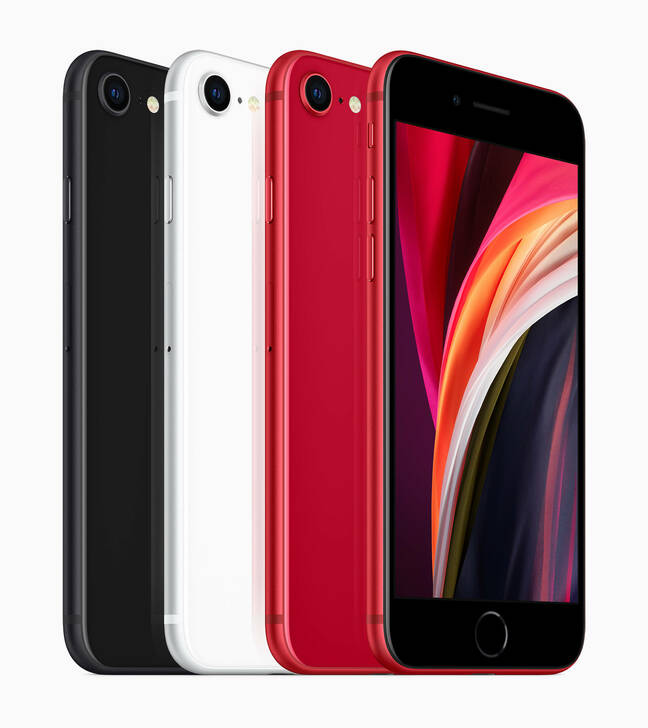 Of course, Apple could help support healthcare workers by paying more corporation taxes, instead of using sophisticated legal avoidance schemes… But we digress.
The original iPhone SE was a low-margin, high-volume success story. We're sure that this effort will be more of the same. And crucially, it'll allow Cupertino to compete with the likes of Oppo, OnePlus, and Xiaomi, which have enjoyed tremendous growth at the expense of Apple and Samsung thanks to their highly capable mid-rangers.
And again: Timing. With unemployment rates soaring past 15 per cent in many developed countries, few can justify spending more than £1,000 on a phone, particularly given the uncertainty about when the lockdown will end. In comparison, £419 is a lot more reasonable.
Pre-orders for the iPhone SE 2020 will open on Friday afternoon, with the phone having its formal release on Friday, April 24. Of course, you can't buy one in-store, as Apple has closed all its retail outfits, save for those in mainland China. ®
Similar topics