This article is more than 1 year old
Feeling hot, hot, hot... in British Columbia? In December?
Overheating HP hardware disrupts festive ad flinging
Bork!Bork!Bork! Welcome to another in The Register's series of computers getting hot under the collar and flinging bundles of bork at passersby.
"It's getting hot in here" is the opening to a song all too familiar to whoever is responsible for this unfortunate bit of digital signage snapped over 2019's festive period at that Metropolis Shopping Center in Burnaby, British Columbia, Canada, by eagled-eyed Register reader "skelband".
Rather than enticing customers to spend their holiday pennies on a moose-themed pendant or limited edition Due South box set, the screen trumpets that the HP hardware within has tripped a thermostat with a 90D – System Temperature warning.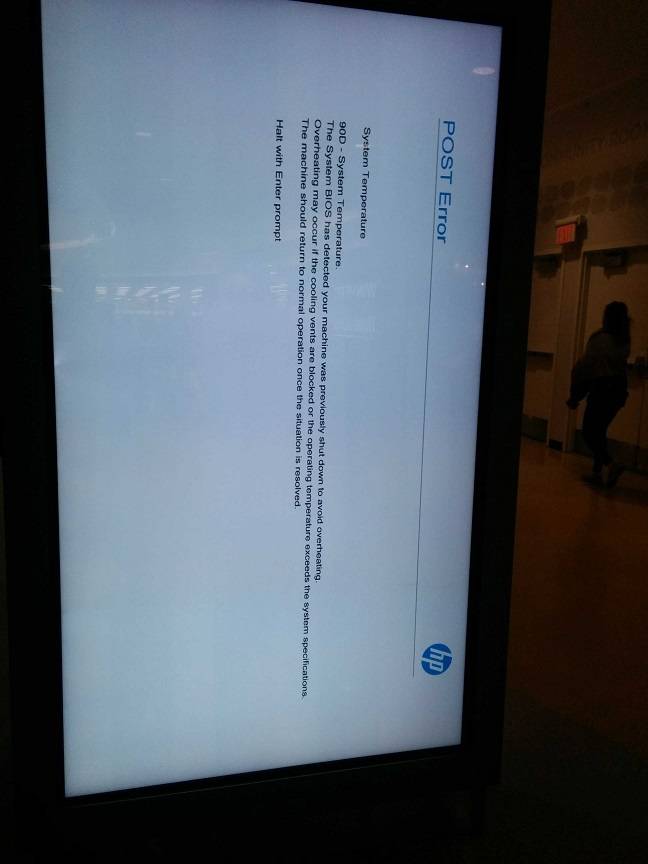 Click to enlarge
Strong work, since the outdoor temperatures tend to be somewhat on the low side in that part of the world during December.
While usually caused by some careless blockage of vents, the error is the bane of a good few HP users. A glimpse around the World Wide Web shows laptops spinning fans madly before shutting down and gaming rigs managing a few short minutes of gameplay before restarting and showing the message now in the face of Canadian shoppers.
Sadly, while hitting the Enter key might get things rolling again, that isn't an option here, unless the USB ports have been carelessly exposed and a passerby happens to be carrying a handy keyboard around. Or perhaps they've picked one up from the Walmart that lurks in the corner of the retail palace.
Or maybe just remove the delicious poutine that could be clogging the thing's vents. After all, we're pretty sure a few too many portions of Canada's national dish (apologies to Québec) would have that effect on the arteries. ®