This article is more than 1 year old
Think before filling in that convenient flight refund form with all your delicious details – there's a scam going about
Email ruse preying on COVID-19 fears sends data to crims, warns Mimecast
Email security biz Mimecast has warned of a flight refund scam doing the rounds amid a general uptick in coronavirus-related online crime.
The scam itself is very simple and relies on current fears, some real, that airlines are reluctant to give refunds to customers who cannot fly because of the global coronavirus shutdown.
It works by offering a fake flight refund form via email. Targets are encouraged to enter their names and credit card details. Instead of sending those details to an airline, however, the personal and financial data is sent directly to criminals.
Mimecast told The Register it had picked up some of the scam emails from its routine monitoring.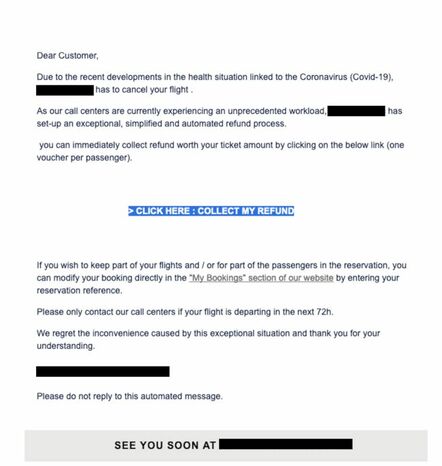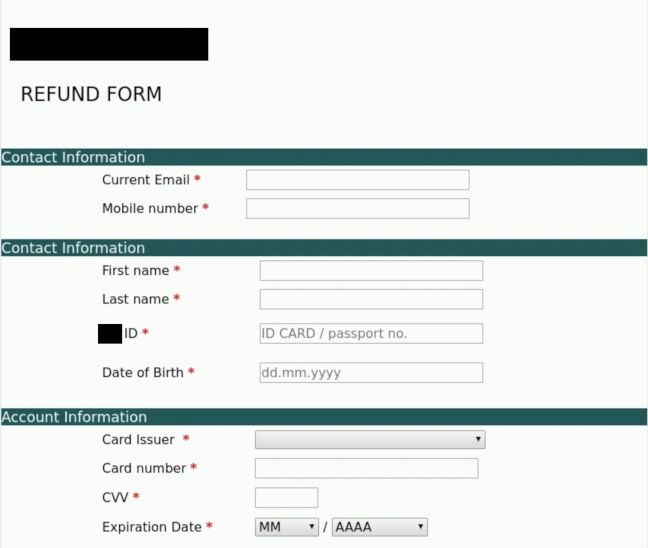 Click to enlarge
"Because there's so much talk in the media about flight cancellations and refunds, criminals have switched those kind of tactics to phishing emails," Kiri Addison, Mimecast head data scientist for threat intelligence & overwatch, told us.
She described the form, warning how personal data entered into it could be abused: "They can see all the personal information: phone numbers, email addresses, credit card payment card details, anything they can use themselves, anything they can sell on the dark web. [It's] stuff they can use for future phishing attacks too."
Topical email scams are a persistent threat, and the con artists behind them broadly follow current affairs and news trends in the hope of tricking innocents into parting with valuable personal data that can be abused to extract money.
Email scams are as old as, well, email. A common lure is for crims to pose as the tax authorities. It's lucrative "business" too: last year a report reckoned that fraudsters made $300m a month in 2018 from Americans alone. Some scams are fairly sophisticated as well, including one spotted in 2017 that picks up old email conversations from the Gmail sent items folder and plants malware disguised as previously trusted attachments being re-sent.
Mimecast's Addison added: "If someone's fallen for a scam like this one, they're a good target for future scams." ®