The big four food delivery apps - GrubHub, DoorDash, Postmates and Uber Eats - are abusing their market power to force restaurants to charge the same for online and in-person order, according to a new lawsuit.
The companies own 98 per cent of the market and use their "monopoly power" to push a "devil's choice" onto the restaurants, argues the proposed class action [PDF] case in New York from three food delivery customers.
At the same time, the spike in demand for food and grocery delivery for a nation stuck at home has caused Amazon to limit access to its grocery program - done through its Whole Foods chain - to an invite-only service, while supermarkets remain overwhelmed by the sudden demand for home delivery.
For those buying food cooked by restaurants, the companies named in the lawsuit have become the most common delivery method, and they are not doing right by restaurants, staff of delivery drivers, the lawsuit claims.
"In exchange for permission to participate in defendants' meal delivery monopolies, restaurants must charge supra-competitive prices to consumers who do not buy their meals through the delivery apps, ultimately driving those consumers to defendants' platforms," the lawsuit alleges.
As a result, restaurants are not in a position to offer a discount to those that buy their food online and so customers are effectively being ripped off, it is alleged. The contract clause that requires restaurants to charge the same is an "unlawful price restraint," claims the lawsuit. "But for defendants' anti-competitive actions, direct and dine-in consumers would have been offered lower menu prices on their direct and dine-in purchases," it argues.
The lawsuit puts claims of monopolization, conspiracy to monopolize and price fixing and proposes two different classes: those that bought a meal directly from a restaurant (and so paid "higher" prices) and those that bought a dine-in meal at a restaurant that uses a delivery app service.
Market share
The lawsuit gives a rundown of the market share of the different companies across different cities which amount to 98 per cent overall but vary widely within different cities - it claims GrubHub has 66 per cent of the New York City market for example, while DoorDash has 65 per cent of San Francisco.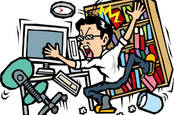 Ahem! Uber, Lyft etc: California Supremes just shook your gig economy with contractor ruling
READ MORE
The lawsuit doesn't directly accuse the companies of colluding together to set the market conditions but argues that they "conspired to willfully maintain and/or enhance its own monopoly power" in each market, in part through pricing and in part by "monopolizing the labor market for delivery persons." Presumably any active collusion would be revealed during discovery if the lawsuit is approved as a class action.
It also claims that the delivery apps take between 13.5 and 40 per cent of revenues, while restaurants take 3-9 per cent. "Defendants' fees are shocking when one considers how little value Defendants provide to restaurants and consumers," the lawsuit argues.
By obliging restaurants to charge the same for online and offline ordering, there is no cheaper option, providing the margins for delivery companies to cover costs and make a profit. This lawsuit may test whether that approach is legal: it claims that it effectively restricts competition by making it impossible for other companies to break into the market or doing things differently.
COVID
The issue is, of course, of heightened importance given the impact of the coronavirus that has forced the closure of restaurants to the public to limit its spread. The lawsuit notes: "Most recently, the Covid-19 pandemic has annihilated the Dine-in Market, as the quarantines advocated by local, state, and federal government officials categorically precludes participation in the Dine-in Market."
"In the next three months, 5 to 7 million servers, cooks, dishwashers, managers and others in the meal and beverage industry are expected to be laid off according to the National Restaurant Association. The industry as a whole is expected to take a $225 billion loss over that time." ®
Asked about the situation and the risk of supply lines being cut or narrowed at a press conference on Tuesday, President Trump reassured the nation by noting: "We're going to be very strong on food supply." ®