More of the same isn't always a bad thing, as demonstrated by the OnePlus 8 and OnePlus 8 Pro. These devices follow the same path as their older siblings, offering an iterative improvement at a reasonable price.
The most obvious changes are skin deep. Instead of using notches or mechanical pop-ups, both phones rely on a hole-punch cutout to house the selfie camera. In both cases, this is oriented on the top left of the screen.
Solid-state devices are less fault-prone than those with mechanical components – even though the sight of a selfie camera rising from within the device looks cool. And I tend to find hole-punch selfie cameras less intrusive than those buried within a notch.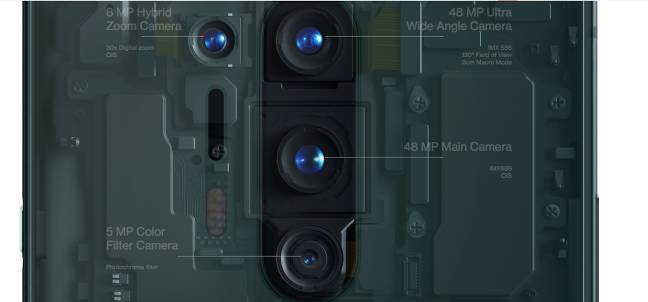 The OnePlus 8 Pro is the first device in its stable to pack an official IP68 rating, making it both water and dust-proof. Confusingly, the carrier versions of the bog-standard OnePlus 8 are also IP68 rated – but not the unlocked versions, even though they are effectively the same device.
The OnePlus 8 series also sees a measurable increase in power, thanks to Qualcomm's Snapdragon 865 platform, paired with the X55 5G Modem. From what I can tell, there's going to be some variance when it comes to band support, with some carrier-branded models supporting mmWave in addition to sub-6GHz.
On the display front, the entry-level OnePlus 8 packs a 6.55-inch AMOLED display, with a 90Hz refresh rate and an in-screen fingerprint sensor. The Pro model ups the ante, with a slightly bigger 6.78-inch display and a 120Hz refresh rate. That ultra-responsive screen sounds impressive, but will likely turn out to be a power-guzzling white elephant.
Power specs
Speaking of which, let's talk about power. The OnePlus 8 Pro has a generous 4,510mAh battery, which supports both wireless and wired fast charging. The non-pro version comes with a slightly smaller 4,300mAh battery and lacks wireless charging.
Both models come with 8GB and 12GB RAM configurations (LPDDR5 on the OnePlus 8 Pro, LPDDR4X on the OnePlus 8), as well as a choice between 128GB and 256GB UFS 3.0 storage. That's about what you'd expect from a device in its price point.
On the optics side, both models pack a 48MP sensor. The OnePlus 8 Pro augments this with a further 48MP ultra-wide-angle lens, an 8MP telephoto lens, and a 5MP colour filter. The non-pro version is a simple three-lens affair, with the primary shooter accompanied by a 2MP macro lens and an 16MP ultra-wide-angle lens.
As before, OnePlus has opted for middle-of-the-road pricing for its most basic models. The 8GB/128GB OnePlus starts at £599. Upgrade the RAM and storage to 12GB and 256GB respectively, and you're looking at £699.
The OnePlus 8 Pro model veers close to flagship pricing, with the 8GB/128GB model retailing at £799, going to £899 for 12GB/256GB. Both models will start shipping on 21 April. Find specs here. ®
Similar topics