Honor MagicBook 14: Nice keyboard and ports aplenty – but with a webcam forever fixed on all of your chins
Which is a great look in this age of cyber-meetings
Hands On Over the past couple of years, teen-tastic mobile brand Honor has diverged from its usual fare, branching into TVs, laptops and the like. These have mostly been Mainland China exclusives, but the latest MagicBook is a notable exception. Vulture Central got its mucky talons on a unit of this shiny groin warmer, and found a surprisingly well-built machine, albeit with a few design quirks.
Yes, it looks a bit like a MacBook Pro. Cast in Chrome and with sharp edges, it doesn't feel particularly cheap. The only embellishment on the lid (besides my fingerprints) is the Honor Logo, which sits way off centre.
Things get interesting when you pop open the lid: The MagicBook 14 has a 14-inch, bezel-hugging 1080p FHD display. Curiously, there's no webcam to be found. Instead, that's located under a dedicated button, which pops up a 1MP shooter at 45°.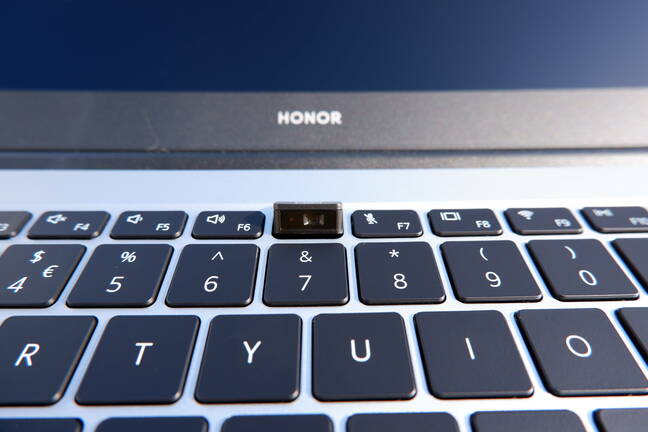 Click to enlarge
We've seen this before. Huawei – Honor's parent company – uses the same design on its Matebook X Pro laptops. And while it does allow the laptop to (theoretically) occupy a smaller amount of desk/thigh real estate, it means the webcam is forever pointing towards all five of your chins – the reverse MySpace angle, if you will. And that feels particularly poorly timed, given the fact that video conferencing is now the norm for those working from home.
At least the keyboard is good. It's well spaced and comfortable to type on, with excellent travel and little noise, and wonderful stability. Huawei has always done well in this space, so it's not entirely surprising, although it is gratifying to see they haven't cheaped out on this one essential area. I also found the trackpad pleasant to use, with excellent responsiveness and tactile feel, although it may be a bit wide for some.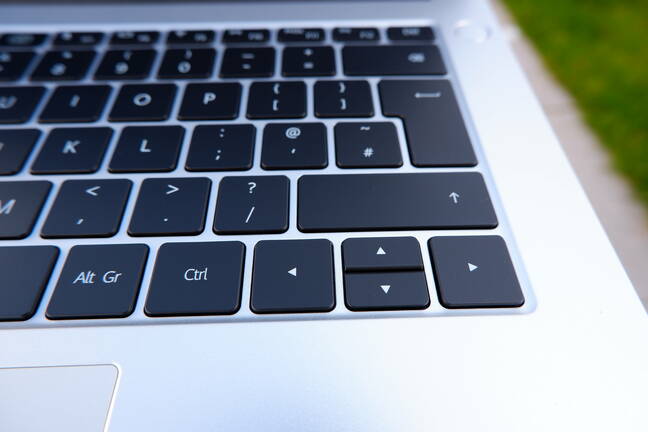 Click to enlarge
The MagicBook does well on the ports front. I can't express how much I love it when laptop manufacturers include a dedicated HDMI port. Sure, USB-C is way more versatile, but there's a convenience factor that's often overlooked.
Speaking of which, yes: there's a USB-C port. This is primarily used for charging, so if you want to connect some peripherals to it, you'll probably need an adapter. Also present are old-school USB 3.0 and USB 2.0 ports. On the wireless front, the MagicBook supports 802.11ac Wi-Fi and Bluetooth 5.
While there's no NFC radio built-in, the device does come with an NFC sticker that's used to power the Honor Magic-Link app, which lets you share files between your phone and laptop. That is, if you have an Honor or Huawei phone. Who said only Apple has a penchant for vendor lock-in?
On the performance front, the Honor MagicBook is well suited to the more mundane daily tasks, although isn't quite capable of taking the leap beyond into AAA gaming. You get 8GB of RAM (which is fairly generous considering many entry-level laptops cram just 4GB in) and yesteryear's AMD Ryzen 5 Mobile 3500U platform.
Still, it chugged along nicely, and had decent thermal management to boot. It didn't get particularly hot while being taxed, nor is it the noisiest laptop I've ever laid hands on. On the graphics front, you get an AMD Radeon Vega 8 integrated GPU, which can handle older games (like Civ 5 and Tomb Raider) without stuttering too much.
Still, the display isn't the brightest ever, and it was challenging to use while outside on a luscious spring day. If you're indoors, you'll probably want to hook it up to an external monitor.
Honor wins points for limiting the amount of bloatware that comes with this machine, with just a few standard Huawei device management utilities included, such as the aforementioned mobile link tool. And that's handy, given that storage is sparing on the base model, with just 256GB to play with.
On the battery front, Honor says the MagicBook can last eight hours between charging – which is effectively a full working day. That said, real-world usage doesn't quite stand up to those lofty figures, with the real number falling a couple of hours short, depending on how extravagant you are with your Chrome tabs.
Overall, though, this is a lovely little laptop, particularly for basic business tasks, or as a university workhorse. And at £549, I'd be hard pressed to find anything real to grumble about. If you're tempted, you can grab it at Amazon and Argos. ®