This article is more than 1 year old
UK govt probes Brit chip biz Imagination after growing Chinese ownership sparks national security fears
Ex-CEO raises alarm over Middle Kingdom overlords' plans
British chip designer Imagination Technologies is being investigated by the UK government for national security concerns after its former CEO revealed that the company is being increasingly controlled by China.
Imagination was acquired in 2017 by Canyon Bridge, a private equity firm backed by China Reform Holdings, an investment firm with direct ties to the Chinese Communist Party. Now, Sir Hossein Yassaie, who led the company from 1998 to 2016, believes its technology is at risk of being seized by its Chinese owners amid the current coronavirus pandemic and has asked MPs to look into the matter.
"As a founder and ex-CEO of Imagination Technologies who left the business in 2016, whilst wishing it the best, I have so far intentionally refrained from making public comments about the company," he said.
"But the recent events at company are so important for the company, its people and our country that I feel I need to speak out and make a few key points, which I have also directly made to our senior government ministers who need to take note (and I have been assured they are) and take necessary actions before it is too late."
Ron Black stepped down from his role as CEO and Board member of Imagination Technologies last week, only to be replaced by Ray Bingham, who is the Executive Chairman and a partner at private-equity firm Canyon Bridge. The reshuffling has also led to the resignation of other senior staff, including Steve Evans, chief product officer, and John Rayfield, chief technical officer.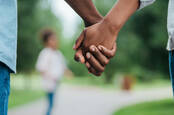 Imagination and Apple, sitting in a tree, l-i-c-e-n-s-i-n-g GPU tech semi-secretly: Brit chip designer strikes iGiant deal
READ MORE
Imagination Technologies, known for its GPUs and microprocessor core designs, also provides other hardware and software components for cloud computing and networking. Yassaie argued that it "provides critical and sensitive technologies to many key customers around the world who rightfully demand and expect adequate independence, security of supply and trust in the organisation."
Ministers at the Department of Digital, Culture, Media and Sport have summoned the chairman of Imagination Technologies for questioning. A letter from Oliver Dowden, the Secretary of State for that department, addressed to David Davis, a Conservative MP for Haltemprice and Howden, said that the government was bringing forward legislation that will give it "further powers to scrutinise foreign transactions in the form of the National Security and Investment Bill."
It is very good that the Secretary of State, @OliverDowden, is intervening in the attempted move by the Chinese of a UK technology company, Imagination Technologies, to China pic.twitter.com/ElSZnRuF4v

— David Davis (@DavidDavisMP) April 7, 2020
The Bill was first introduced during the Queen's Speech in December last year. It will allow the government to assess transactions and investments from foreign parties that could impose a national security risk.
As Canyon Bridge takes over Imagination Technologies, the company could lose crucial IP and skilled workers. Yassaie believes that the Chinese-state backed firm is using the outbreak of COVID-19 to stage a coup.
Canyon Bridge has responded to the Foreign Affairs Committee by promising to keep the company's base in Hertfordshire, Sky News first reported.
"We welcome the opportunity to respond directly to any questions the Committee may have and address any misunderstandings," a spokesperson from Imagination Technologies, told The Register. ®