Grab your Bitcoin while you can because Purse.io is shutting up shop in June and you could lose the lot
Amazon, the government, economics? Startup schtum on sudden closure
---
Purse.io is advising its customers to withdraw all digital funds from the site "as soon as possible," after announcing it'll shut down completely on June 26.
The online souk, which matched bitcoin (BTC) and bitcoin cash (BCH) users who wanted to buy Amazon gift cards at a discount and sellers that wanted cryptocurrency, said on Thursday that no new accounts will be allowed. On April 23 no new deals between buyers and sellers will be allowed, and all current transactions will be completed or terminated by the June 26 deadline.
"If you have a balance on Purse.io, please withdraw all funds as soon as possible," said Purse in a statement. "It's been a privilege serving people all around the world. Thank you for helping us make crypto useful."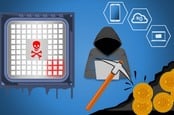 Remember cryptojacking from way, way back (2019)? Site infections are down 99% – thanks to death of Coinhive
READ MORE
No reason for the closure was given but there are a couple of possibilities. Firstly, earlier this week, Amazon announced that it was cutting the amounts paid to affiliates that refer business to Bezos & Co, by as much as 80 per cent in some cases. That may have fundamentally altered Purse's business model.
Some have suggested that the crypto-biz might be the victim of a government crackdown on such forums. While Purse was one of the biggest players in the market, other forums offering similar services are still trading. Make of that what you will.
Finally there's the possibility that Purse simply ran out of money. The San Francisco-based concern has raised $1.3m in funding over the last six years and VC funding is drying up faster than California's aquifers as capital hunkers down for a long recession. ®