Former darts world champion Gary Anderson says he cannot compete in upcoming remote tournaments due to his slow home internet connection.
Anderson, the Scotsman who took home the World Darts Championship in 2015 and 2016, confirmed today's report from Sky Sports that he could not make the upcoming home streaming events for the Professional Darts Corporation (PDC). He even posted a speed test showing just how lousy the connection was in his rural neighborhood.
April 17, 2020
In case you are wondering... Yes, this is the same Gary Anderson who was once accused of sabotaging an opponent with flatulence.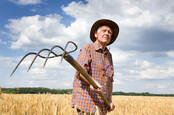 Congratulations! You finally have the 10Mbps you're legally entitled to. Too bad that's obsolete
READ MORE
The latest event in question is a special PDC event planned to replace the tournaments that had to be cancelled due to the coronavirus lockdown. A special 32-night streaming event would see all tour players compete against one another by broadcasting live from their homes.
The first phase of the home tourney is set to kick off on Friday night.
Alas, the stay-at-home event will actually be two players shorter, as Anderson was joined by fellow tour pro Daryl "Superchin" Gurney, who said that he too did not have the required network speed.
Sorry to everyone but I won't be participating in the fantastic @OfficialPDC innovation darts at home. My internet WiFi is not up to scratch and the set up I use for practice wouldn't be sufficient good luck to everyone

— Daryl Gurney (@Superchin180) April 17, 2020
Jokes aside, lousy broadband speeds in rural areas are a lingering problem both in the US and the UK. With few residents spread out over long distances, many telcos simply don't see a way to make money running costly high-speed broadband lines and equipment to those areas, prompting calls for local and federal governments to step in and fill the gap. ®