This article is more than 1 year old
Video game cloud streaming shaken up as Nvidia loses more big names, Microsoft readies its market killer
It's all about the content. And where you can – and can't – get it
Nvidia's GeForce game-streaming service has lost four big-name game publishers, with Xbox Games Studios, Warner Bros, Codemasters, and Klei Entertainment pulling their titles by the end of the week.
The decision comes as Microsoft prepares to launch its own game streaming service, Project XCloud, and high-end streaming company Blade launches a lower-priced version of its Shadow streaming service.
With competitors PlayStation Now and Google Stadia also chasing streaming customers, and Apple pushing its walled-garden games system, the market is entering a new era of competition similar to the movie and TV streaming market a few years ago.
The loss of Xbox and Warner Bros is significant yet buried in an announcement that Nvidia had signed up Ubisoft, whose titles include Assassin's Creed, Far Cry, and the Tom Clancy series, for GeForce. It painted the changes as an "opportunity to refine our library" and stressed that "thirty of the top 40 most-played games on Steam already stream on GeForce NOW."
Gamers pay Nvidia $5 a month (for now) to run games they have already bought at a far higher performance level and speed than their devices can manage. Nvidia runs its own copies of the games on its high-end servers, takes input from peoples' controllers, processes it, and then streams video back to the user.
While that may seem like overkill, it means ordinary gamers can compete with those on high-end gaming machines, which cost thousands of dollars. With even a microsecond meaning the difference between winning and losing, it is something many are prepared to pay for.
But, as with TV and movie streaming services, content is everything and so there is a tussle going on between game developers and operators of streaming services. Google launched its Stadia service with plenty of fanfare a year ago but has so far disappointed gamers because of its limited selection of games and compatibility issues. It does offer the best resolution (4K) however and charges $10 a month.
Market mix-up
PlayStation Now requires you to have a PlayStation and works only with games that run on the platform (although they are pretty extensive) and also costs $10 a month. Shadow offers a higher-end service that costs $25 a month and from next month will offer a lower-cost but lower-powered $12 a month option.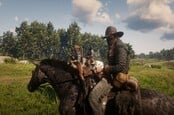 Red Dead Redemption 2 on PC: Howdy buck do you get a solid 60FPS in Rockstar's masterpiece?
READ MORE
As for Microsoft's upcoming Project XCloud service - due to launch anytime soon - it won't require users to own an Xbox (unlike Sony's Playstation service). Pricing has yet to be announced but will almost certainly be in the $5-$10 range.
Microsoft is expected to offer the same compatibility and streaming quality as the rest of the market, something that makes the selection of games available even more critical.
A range of other game developers previously pulled out of Nvidia's GeForce service after it publicly launched in February - including the biggest names in games, Activision Blizzard, Rockstar Games, 2K Games and Bethesda - because they were unable to agree terms with Nvidia. In other words, they wanted a cut of Nvidia's revenues through GeForce, and Nvidia refused.
Microsoft's decision to pull Xbox Games is different: The biz will be able to launch XCloud with exclusive access to popular games like Halo and Gears of War. The big question is whether Microsoft is prepared to pay other developers to host their games in an effort to corner the market, or if it will rely on its Xbox name to pull in a sufficient number of games to attract users.
It may not be coincidental that Warner Bros' decided to jump ship on Nvidia's streaming service at the same time as Microsoft. Announcing the launch of XCloud with Warners' games as well would be certain to attract paying customers.
As things stand at the moment, however, Nvidia's GeForce streaming service is still the best offering on the market. Launched earlier this year it costs just $5 a month and has a wide selection of games, even with the loss of the four publishers announced this week. The service is also extremely robust - the company ran beta tests for over a year before launching.
Back-up
GeForce also has the support of two critical companies: Epic and now Ubisoft. Ubisoft has its own $15-a-month streaming service that it has heavily discounted in recent months after a slow take-up. Its decision to go in with Nvidia may mean it kills off its own service.
Epic is the developer of the ubiquitous Fortnite games and its CEO Tim Sweeney has been quite public in his defense of GeForce, in large part because he fears the other options will give one company too much power. Nvidia makes chips and graphics units and as such has no skin in the game; the same is not true for Sony and Microsoft.
As for Google and Apple, they are tech monsters trying to encroach on the traditional gaming market through their control of the Android and iOS operating systems, which charge games developers 30 per cent of any sales made through their app stores.
"Cloud streaming services will be key players in ending the iOS and Google Play payment monopolies and their 30 percent taxes," Sweeney tweeted last month. "Apple has decreed that these services aren't allowed to exist in iOS, and therefore aren't allowed to compete, which is megalomaniacal and won't stand."
He later added: "Just waiting till later this year when Google is lobbying against Apple for blocking Stadia from iOS, while Google blocks GeForce NOW, xCloud, and Fortnite from Google Play, and this whole rotten structure begins collapsing in on itself."
In other words, things are hotting up in the games market, just as demand from locked-down gamers increases hugely. ®