This article is more than 1 year old
Three years ago, IBM ordered staff to work in central hubs. Now its new CEO ponders mid-pandemic: Is there a better way of doing things?
Plus sales down, guidance scrapped. What else is new? Well OK, apart from the 'unprecedented business climate'
IBM on Monday reported revenue of $17.6bn for its Q1 2020 earnings, a 3.4 per cent year-on-year decline attributed to "an unprecedented business climate," as CFO James Kavanaugh put it.
It was the final quarter under former CEO Ginni Rometty, whose tenure was marked mostly by retreating sales. Her replacement, Arvind Krishna, took over on April 6, 2020, and put a positive spin on the situation.
"Our first-quarter performance in cloud is a reflection of the trust clients place in IBM's technology and expertise today, and positions us to continue building an enduring hybrid cloud platform for the future," said Krishna in prepared remarks.
The company's GAAP EPS came to $1.31, down 26 per cent from the year-ago quarter, and its net income was $1.2bn, also representing a 26 per cent year-on-year decline.
On IBM's conference call for investors, Krishna observed that more than 95 per cent of company employees are working remotely due to COVID-19. "This is a reminder we should always be asking ourselves, 'is there a better way of doing things?'" he opined.
Which is kind of ironic. Three years ago, IBM told its workers to do the opposite, enacting a policy that required employees to work from one of six main offices.
Describing the quarter's results as a modest revenue gain of 0.1 percent, if you just adjust for divested businesses and currency fluctuations, Krishna warned that the company's software customers had slowed their spending in the last two weeks of the quarter.
IBM's business units performed as follows:
Cloud & Cognitive Software was up 5 per cent with $5.2bn in revenue. The Cloud & Data Platform group within this segment, driven by Red Hat, was up 32 per cent.
Global Business Services delivered $4.1bn in revenue, flat year-on-year, with growth in IBM's Consulting segment of 4 per cent.
Global Technology Services generated $6.5bn, a decline of 6 per cent.
Systems revenue saw $1.4bn in revenue, up 3 per cent thanks to the IBM Z mainframe line.
Global Financing brought in $299m, a decline of 26 per cent.
In conjunction with its earnings release, IBM withdrew its 2020 financial guidance. Krishna said this was not the quarter to claim earnings clarity, but said Big Blue intends to provide financial guidance at the end of the second quarter.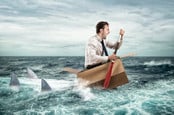 IBM age discrimination lawsuit suddenly ends, suggests Big Blue was willing to pay to avoid discovery process
READ MORE
Kavanaugh said many of business transformation projects undertaken by IBM's customers were put on hold in March, particularly in the retail industry.
In a phone interview with The Register, Bola Rotibi, research director for software development and delivery at consultancy CCS Insight, said Krishna's remarks about openness and transparency suggested a focus on business fundamentals.
"I felt it was going back to basics," she said of the company's earnings call. "The big thing is, it's not the same business it was a number of years ago, but the general story that came across from Arvind is 'we've got the cash.'"
That is to say, IBM has $12bn cash on hand to help it weather the current uncertainty. However, the biz also has accrued $64bn in debt.
Rotibi also noted the focus on Red Hat. "Everything is now couched in the talk of hybrid cloud and leveraging Red Hat," she said.
Krishna said the focus of IBM business in the years ahead will revolve around hybrid cloud and AI, underscoring the company's reliance on Red Hat. Allowing that he didn't have any specific insight into how long the COVID-19 crisis will affect business, Krishna expressed confidence in IBM's fundamentals. "I have confidence in our business," he said. ®