This article is more than 1 year old
Scaleway disarms its ARM64 cloud, cites unreliable hardware as the reason
So why not just buy new servers? That's where this gets curly
One of the few clouds to offer 64-bit Arm-compatible servers is dropping the architecture.
Scaleway revealed new Arm-powered efforts in June 2017, offering four instance types running on Cavium, now Marvell, ThunderX SoCs.
At the time of launch, Scaleway said the launch was a culmination of its long efforts to make Arm-powered servers a mainstream cloud option. "Our new ARM64 lineup proves Arm SoCs are not tied IoT and Smartphones: Arm is a true alternative for the server market with solution for small and large workloads," the company said at the time.
But not enough of an alternative to be worth ongoing investment.
In an email sent to customers last week, and now widely posted around the 'net, Scaleway informed customers that "as of December 1, 2020, our [x86-based] C2 and ARM64 Instances will reach their end-of-life."
The email also said it would become impossible to provision Armv8 instances as of April 16, which appears to have come to pass as they're not listed among Scaleway's instance types, and that support for existing instances would end on July 1, and they will be "completely deprovisioned as of December 1, 2020."
The email offers the following explanation for the situation:
"The physical servers hosting them are indeed randomly affected by several stability issues, which prevent us from fully guaranteeing the overall quality of service."
So why not just buy new and more reliable servers?
The Register can imagine two reasons. One is that Scaleway just doesn't have enough Armv8 customers to make a new server investment worthwhile. The other is that the company may have concluded that more reliable servers might not be available.
Also worth noting is that the C2 instances run x86 silicon, and it's not as if resilient servers ready to run x86 are hard to find.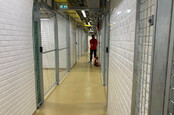 As above, so below: El Reg haunts Scaleway's data centre catacombs 26 metres under Paris
READ MORE
It's tempting to say that this is not a good moment for those who advocate power-sipping multi-core Arm-based designs as a fine alternative to x86.
But there's still plenty of heavyweight interest in cloudy servers running Arm designs. AWS has teased a second generation of its Arm-compatible instances, while Packet operates an Arm cloud, and Huawei has signaled its intention to build an Arm-based ecosystem. Microsoft has said it expects Arm to power much of Azure, and Oracle made a $40m investment in Arm-for-servers chip designer Ampere.
And VMware's still beetling away on ESXi-for-Arm, even though it's not entirely sure what customers will want it for. Then there are upstarts like Nuvia aiming for data centers.
Scaleway has published a guide to migrating into its other instance types. ®