This article is more than 1 year old
We're all stuck indoors, virtual reality tech should be hot. So why is Magic Leap chopping half its workforce?
Upstart will make 'targeted changes to how we operate' ... like, oh, say, making something that actually lives up to the hype?
Analysis The bubble appears to have finally burst on augmented-reality darling Magic Leap, with its CEO announcing on Wednesday he was slashing its workforce in half.
This comes after the startup abandoned its consumer focus to instead target enterprise.
"To better prepare Magic Leap for the future, we have taken a close look at our business and are making targeted changes to how we operate and manage costs," a blog post by Rony Abovitz reads.
"This has made it necessary for us to make the incredibly difficult decision to lay off a number of employees across Magic Leap… These changes will occur at every level of our company, from my direct reports to our factory employees."
The exact number of those losing their jobs is not known but is estimated to be around 1,000 - most of them from its headquarters in Florida.
In his statement, Abovitz attempts to blame the coronavirus pandemic and its impact on investment for the cuts but the writing has been on the wall for years for Magic Leap, in large part because the startup has consistently over-promised and under-delivered.
Its only product – a complicated and fiddly AR headset – was repeatedly delayed, and when it did finally launch, underwhelmed the market. For one, it was incredibly expensive – $2,295 for just the headset – but more importantly the company had been unable to fix a critical problem: it can't react fast enough to people's heads moving.
The result is juddering images that made the majority of the proposed use cases improbable. Investors were impressed with the potential of the holographic images that appeared to float in space while wearing the devices, although they are more impressed with the patent portfolio that the company had built thanks to dozens of engineers working on the product for years.
"While our leadership team, board, and investors still believe in the long-term potential of our IP, the near-term revenue opportunities are currently concentrated on the enterprise side," explained Abovitz in his statement.
That is a very long way from his early enthusiastic promises that the company would change how people perceive and interact with the world.
All about the intellectual property
The IP portfolio means that when someone does finally crack AR's tough technical issues, whoever holds Magic Leap's patents will be able to demand healthy royalty payments.
The remaining issues are significant. Whereas virtual reality technology is progressing and slowly approaching something that the average person would consider, augmented reality remains far off.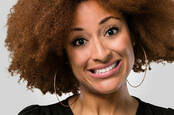 Magic Leap's CFO and creative director quit, and it's not a harbinger of doom or anything
READ MORE
It needs a much larger field of view so it feels more like natural eyesight. And it has to be able to show images on the screen without reducing the light levels so drastically that the overall experience feels like looking at the world through a welding mask.
And then, of course, the tracking issue that Magic Leap appears to have been unable to conquer despite years of effort and billions of dollars.
Then there's one more piffling little problem; building the hardware needed for a wearable device capable of doing the job that isn't excessively heavy and that can be powered for several hours.
To be fair, Magic Leap did achieve some leaps and bounds, using its extraordinary $2.6bn in funding to hire some of the best engineers in the field. But it was also clear from the very beginning that Rony Abovitz as CEO was prepared to push the truth almost to the breaking point in order to drive his dream.
The first time most people heard of Magic Leap was when a video of a whale leaping out of a gym room floor, surrounded by stunned spectators, was used to promote the company – with the intent of bringing in investment money. It was so successful the clip appeared on daytime TV shows.
Abovitz and Magic Leap responded by putting out another video – this time of someone sat at the desk playing a game in which killer robots break through walls and ceiling and the player uses a virtual gun to shoot them. It sent the gaming industry in a frenzy.
But it was all fake. Nothing but special effects created by a company that does Hollywood movies and who weren't excited about their work being misleadingly represented as actual footage through the Magic Leap glasses – which didn't even exist at the time.
Showman
But Abovitz's charisma, vision and salesmanship kept saving the company even after publications, including El Reg, took a highly skeptical look at the outfit.
The tech industry's ardent wish to be at the forefront of technology, and some folks' willingness to offer uncritical coverage in return for access to the next new thing, meant that Magic Leap kept returning, again and again, each time with grand promises but no actual product, and always just before it needed another cash injection.
The upstart grew increasingly paranoid and aggressive, forcing employees to sign confidentiality agreements and threatening anyone who even mentioned its work with litigation. The internal work culture suffered and it ended up being sued for sexual discrimination… by the woman it hired to stamp out sexual discrimination.
When we chased down some employees at a games conference, rather than talk enthusiastically about their product as most staffers do, they were guarded to an excessive degree and escaped as fast as possible with a security team in tow.
It all eventually came to a head at the end of last year when the startup was forced, yet again, to ask for more money and this time had to put its patents up as collateral. Its CFO and creative director quit shortly thereafter.
Time for a pivot
The new money men started cracking down on Magic Leap, and it announced it would "pivot" to the business market, having finally admitted that it wasn't going to achieve the necessary technical breakthrough to make it appealing to consumers. Microsoft had reached the same conclusion years earlier with its Hololens product.
The business market will be able to develop uses for Magic Leap, using stationary or slow-moving images to carry out a variety of tasks. Although there is still a question mark over that because the headset is so complicated that when this reporter tried one on, it required a Magic Leap employee to carefully position it, having decided what size headset was needed in the first place (there are two for different head sizes) and having hunted around for the right lenses to place into it because I wear glasses and you can't wear glasses with it (the right size was missing from the box.)
Magic Leap has tried to entice architects with the idea of walking through spaces but has had limited success. It is now reportedly turning to the one industry that has money to spend right now: healthcare.
Today's announcement was inevitable. The technology never worked in the way that the company claimed, not matter how much it spent on it, no matter how hard it willed it into existence, and no matter what extraordinary tale its CEO wound around its existence.
The most extraordinary thing about Magic Leap is how long it has been able to stay alive. ®