This article is more than 1 year old
News sure to ex-Zeit: Next.js company reborn as Vercel
Rebrand Field Book reveals it's versatile as well as 'accelerate' and 'excel'
Logowatch Next.js sponsor Zeit has daringly stroked itself with the rebrando-brush and emerged as Vercel following the receipt of $21m in venture capital funding.
Vercel's business is hosting static websites and serverless functions that fit the Jamstack deployment model, where web pages are pre-rendered as far as possible and can be served by a content delivery network rather than running on a webserver. Vercel sponsors the React-based JavaScript/TypeScript framework Next.js.
But enough about the less important stuff. Describing the makeover by its Strategy Boutique as "very special news", the company said the new name audaciously combines the words versatile, accelerate and excel.
It is out with the old and in with "a new logotype for the brand"; excitingly, the typeface is totally different, with Vercel leaving behind the plain-black Zeit triangle in favour of a plain-black Vercel triangle.
"We decided to retain our signature triangle logo, although we have simplified it," the team explained.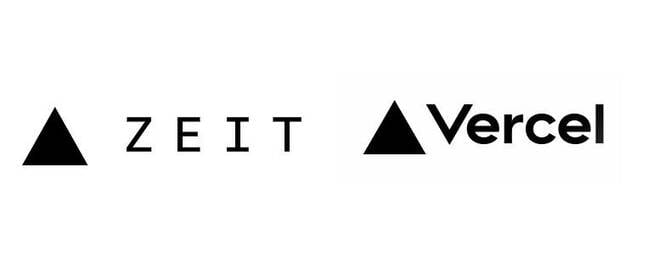 The old complicated logo (left) versus the new effort (right)
Concerned about potential confusion, Vercel is reassuring customers with what it calls a "Rebrand Field Book", which answers common questions like "what about Twitter handles and status pages?" We can reveal that the former handle @zeit_status is now renamed @vercel_status. The product previously called Now will now not be Now, but Vercel instead.
But that's only the beginning. "There are many more milestones to come and we invite you to join us on this journey," Vercel tempted.
Co-founder Guillermo Rauch said Vercel wants to support not only Next.js applications, but also other component-based JavaScript frameworks like Svelte and Vue. He also highlighted a benefit of Jamstack: because no web server is required, you can preview work in progress directly from a code repository. The Vercel system generates a deploy URL for every push that you can share within the development team.
Vercel's specialists worked tirelessly to capture the paradigm shifts influencing the rebrand but didn't touch the name of the Next.js framework, except for the fact its GitHub repository will in due course be moved to one under Vercel rather than Zeit, which isn't too contra-Vercel. ®