The rumor that just won't die: Apple to keep Intel at Arm's length in 2021 with launch of 'A14-powered laptops'
Homegrown chip to shift away from Chipzilla? Hey, it could work
---
Apple will reportedly release its own Arm-powered Mac computers next year, marking the biggest component change since Cupertino ditched IBM's PowerPC chips in 2005 for Intel's x86 line.
Citing anonymous internal sources, Bloomberg claims Apple has designed three laptop processors based on the upcoming A14 platform, with the codename Kalamata. These will be more powerful than the processors found on the equivalent iPad and iPhone devices, and will gradually be rolled out across the firm's computer line, starting with the least-powerful machines.
Presumably this means the MacBook Air, which represents Apple's entry-level computer since it ditched the MacBook. Although Bloomberg suggested Apple could roll out an entirely new laptop line dedicated to its new Kalamata chips.
The report cites TSMC as the fabricator for the new Arm processors, which will purportedly use a 5nm process and have 12 processing cores – eight high-performance cores, codenamed Firestorm, and four energy-efficient cores, dubbed Icestorm. This will represent a step-change over the current entry-level MacBook Air, which has just two processing cores.
Although a move to Arm would offer some degree of commonality between the Mac and the iPhone/iPad, it doesn't necessarily spell doom for macOS, with Apple reportedly planning to preserve it as the mainstay of its laptop and desktop computing lines.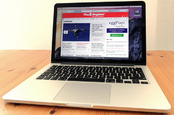 Famed Apple analyst chances his Arm-based Macs that Apple kit will land next year
READ MORE
"Apple will leave Intel for Arm" is the consumer tech equivalent of "20XX is the year of the Linux desktop." For years, prophesies and predictions have swirled about Apple, leaving the loving embrace of Chipzilla to make it on its own, with little substance to back them up. But this time feels different.
Already we've seen a steady flow of Arm laptops, with Google and Microsoft offering compatible spins of ChromeOS and Windows 10 respectively. These efforts have won the support of chip makers like Rockchip and Qualcomm, as well as laptop vendors like Samsung and Lenovo. And that's largely thanks to the narrowing of the performance gap, allowing Arm-based platforms to provide a steady, relatively fluid experience.
Arm-based chips also have several key advantages, particularly on the power efficiency and connectivity fronts. The Lenovo Yoga 5G, for example, packs a built-in 5G modem and a 24-hour battery.
Of course, any move to Arm would present its own challenges – although none insurmountable. There would be inevitable compatibility issues with applications built for Intel, with developers required to recompile them for the new platform, or users required to use an emulation layer.
Apple has experience here, following the move to Intel from PowerPC. The transition was relatively short too, considering the amount of legacy software that's inevitably prevalent on such a popular and storied platform. For a few years, it offered the Rosetta binary translation tool layer as users and developers alike transitioned to the new platform, eventually retiring it with the release of mac OS 10.7 Lion.
But it would also have its own advantages, offering a greater degree of commonality between macOS and iOS, making porting apps somewhat simpler.
From the eyes of this observer, a switch to Arm feels more viable than ever. Not only does Apple have years of chip-design experience, itself bolstered by several strategic acquisitions, but the technology has matured enough to allow a transition from the power-thirsty Intel chips that have represented the mainstay of Apple's computer line for over 15 years. ®